News
Siemens rolls out micro-LNG in US
Siemens subsidiary Dresser-Rand said January 18 it has commissioned its first micro-LNG system.
The Ten Man facility in Pennsylvania began LNG production in mid-September last year, just four months from contract signing, and has produced 500,000 litres of LNG since start-up. The facility enables operator Frontier Natural Resources to monetise stranded natural gas at Tenaska Resources's Mainesburg field in the Marcellus shale play of Pennsylvania.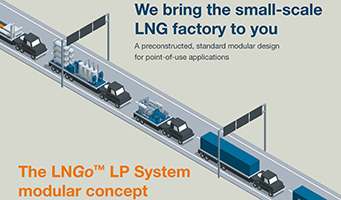 (c) Dresser-Rand
The modular, portable 'LNGo' system can be installed in a short period of time. Consisting of four different modules, it can be transported on eight trucks, deployed at the gas field and has a footprint of some 508 m³, roughly the size of a basketball court.
With the increasing use of LNG as a fuel for road trucks in North America, micro-LNG represents one way to monetise stranded gas. Rival technologies such as small-scale gas-to-liquids (GTL) offered by other companies also offers a way to turn natural gas into motor fuel.
Publications
Ukraine and the Association Agreement: How to Prevent a Storm?

The project "Enhancing impact of civil society in monitoring and policy dialogue on energy and related sectors' reforms in line with the Association Agreement implementation" presents the monitoring report on Ukraine's progress in the implementation of the Association Agreement with the EU in the areas of energy and environment "Ukraine and the Association Agreement: How to Prevent a Storm?", covering 2016 year.