Ukrnafta's financial standing
There is an opinion that expenditures in the fuel and energy sector are unjustifiably high.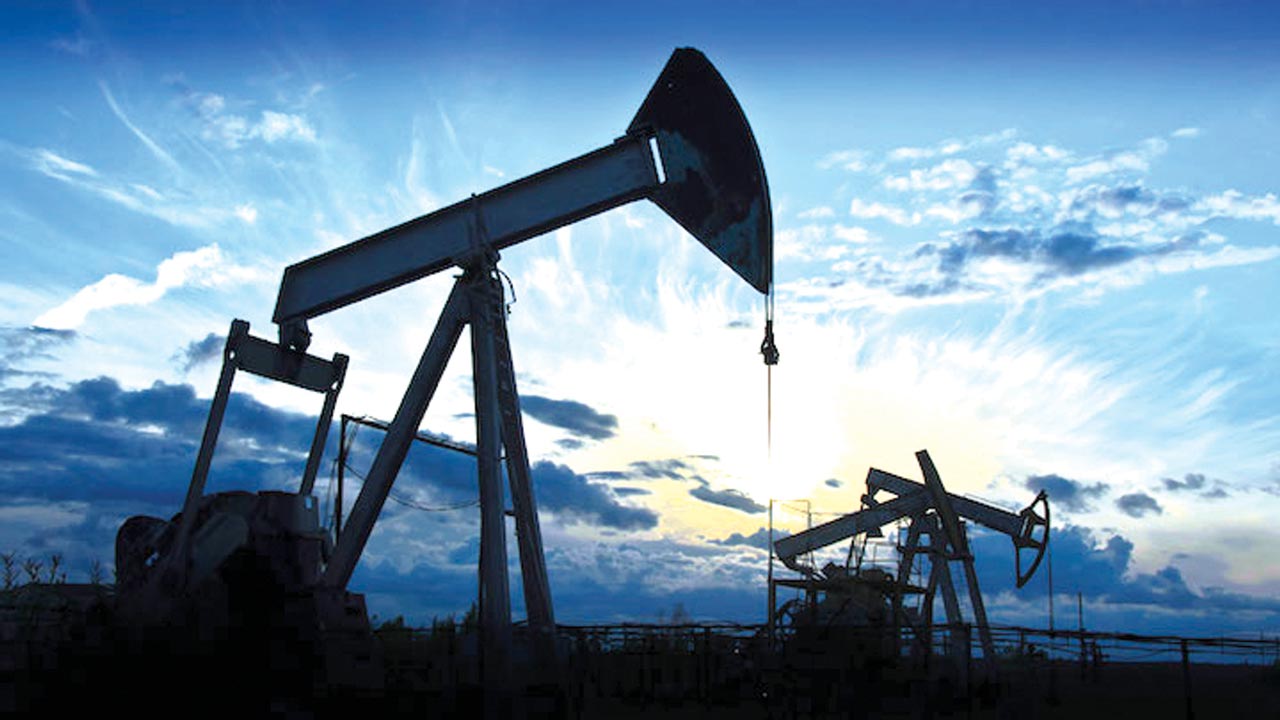 High salaries of the top management and their foreign "advisors", and intermediary entities which do not make energy markets more transparent but only pile up burden on the Ukrainian budget and end consumers receive strong criticism. For the last five years, the largest oil producer in Ukraine has been unable to settle its debt to the state, continuing to accumulate the amount owed to the budget and the company's losses in general.
We will take a look at Ukrnafta's profitability and the government's attempts to resolve the difficult financial situation at the company: would the story end with the most profitable assets going into private hands and the unprofitable ones remaining the burden on the shoulders of taxpayers?
Ukrnafta today
Ukrnafta PJSC is a huge Ukrainian oil and gas production company ranked third on the list of the top 15 taxpayers of Ukraine according to information from the State Fiscal Service (SFS). It has six regional production departments, three natural gas processing plants, three drilling departments and a large number of oil service facilities. In 2015, the company reported an unheard-of profitability of UAH 17 billion, began paying dividends to shareholders, increased net sales income to UAH 28.761 billion, began to optimize sales costs, settle tax liabilities and repay loans, and stopped borrowing for its financing activities (Table 1).
However, in 2016 the company reported inadequate losses from operating activities and other operating expenses, began to lose aggregate income, and increased labor costs by UAH 400 million, even though the number of its personnel has declined by almost 5 thousand (from 28,821 in 2011 to 24,004 in 2017).
| | | | | | | | |
| --- | --- | --- | --- | --- | --- | --- | --- |
| Year | 2011 | 2012 | 2013 | 2014 | 2015 | 2016 | 2017 (1-2Q) |
| Average number of personnel | 28,821 | 27,908 | 26,767 | 26,392 | 26,392 | 25,117 | 24,004 |
| Gross profit (income less cost price) | - | 9,334,665 | 9,992,102 | 13,768,611 | 17,091,824 | 10,521,322 | 6,873,316 |
| Net sales income | - | 20,683,363 | 21,101,331 | 27,891,932 | 28,761,995 | 22,578,750 | 13,781,120 |
| Deferred tax liabilities | - | 1,237,624 | 967,286 | 1,215,107 | 50,937 | 0 | - |
Table 1: Number of personnel, profitability and amount of tax liabilities (thousands UAH) of Ukrnafta PJSC in 2011 – first half of 2017
Why losses instead of profits?
According to Mark Rollins, the incumbent Chairman of the Board of Ukrnafta PJSC, the company faces three main problems:
"Prolongation of special permits is the company's first problem; the second problem is the company's tax debt, and the third one is the mechanism of oil auctions which prevents us from selling resources when we have to sell them".
It's worth recalling how the company came across these problems.
As of today, 50% of stock + 1 share is held by the state-owned company Naftogaz of Ukraine NJSC. The remaining stock is held by the Cypriot companies affiliated with Privat Group: Littop Enterprises Limited, Bridgemont Ventures Limited and Bordeaux Management Limited hold 13.6050%, 13.6050% and 12.8909% of stock, respectively. The stocks of these companies are held by Ukrnafta's current or former managers and by private investors, or traded in the Ukrainian stock market.
In the past, such a form of ownership complicated the decision-making process. For several years in a row, the state as a major shareholder could not receive dividends from the company's activity.
Meetings of shareholders were blocked as the "Cypriots" from Privat Group would not show up for them, and therefore, the process of making decision on the payout of dividends dragged out for years. In the meantime, Privat – in the best-case scenario – would increase its production capacity by reinvesting the profits, and in the worst case, it would simply hide profits in low-tax offshore jurisdictions instead of sharing its profits with the state and paying taxes to the state budget. The requirements concerning public financial statements were also ignored, and the miserly penalties of 850-1200 hryvnias for the failure to file financial statements for the 1st, 2nd and 3rd quarters of 2006 and 2Q 2010, and the annual report for 2011 did not stimulate the company's shareholders to revise their policy.
The story with the nonpayment of dividends to shareholders and the state has begun back in 2006-2007, when the National Securities and Stock Market Commission issued first warnings to Ukrnafta. Dividends could not be paid out because meetings of shareholders were not held, and Ukrnafta was also issued warnings about that in 2013 and 2014.
First cracks
Beginning from 2014, mass media were reporting about fictitious partners whose contracts were terminated at an excessive cost or even absolutely unnecessary intermediaries in the shape of "fly-by-night companies"; about the siphoning of profits into offshore companies via fictitious "foreign investors"; mentioning nontransparent management of the company and the impossibility to observe bureaucratic procedures when making strategic decisions, and the miskeeping of the joint-stock company's documentation. All that points to the existence of corruption risks in allocation of public funds and a large-scale tax evasion in Ukraine.
Changing everything
An attempt to dismiss the ineffective management controlled by minor shareholders and establish government control over the company took place in March 2015, when the Verkhovna Rada passed the law On Joint-Stock Companies lowering the quorum for legitimacy of a general meeting of shareholders from 60% to 50%+1 share. This controlling stock is held by Naftogaz of Ukraine NJSC. By making this step, the parliament drew the line under the sabotage by shareholders close to Privat, a financial and industrial group associated with the Ukrainian oligarchs Ihor Kolomoyskyi and Henadiy Boholyubov.
However, by the end of 2015 the company was unable (see: Diagram 1) to settle its tax liabilities, which by that time amounted to UAH 10 billion. In 2016, prosecutors began inquiring into the reasons for inactions of the Naftogaz's representative on Ukrnafta's Supervisory Board, and as of 1 September 2017, it turned out that this debt has soared to UAH 13.658 billion (owed to the state budget) and UAH 165 million (owed to local budgets).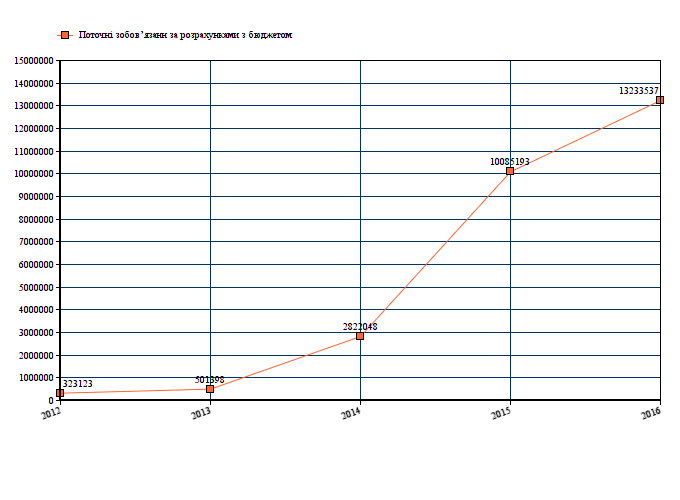 Diagram 1: Amount of debt owed by Ukrnafta PJSC to the budget
How could such a promising company incur debts?
Both journalists and prosecutors tried to find the answer to this question.
In the past, the company's top managers claimed, along with analysts, that the company is not quite state-owned, that the shareholders affiliated with Privat Group are purposefully blocking its reorganization, because they want to manage themselves the company's funds and crude, which they could refine themselves and then sell the finished products for own benefit, whereas Naftogaz of Ukraine NJSC had no means of influence over Ukrnafta.
To solve this dilemma, Mark Rollins, a highly-paid British manager with the experience of working as a senior executive at BG Group was "parachuted" into Ukraine.
Returning natural gas nonexistent in nature
Despite the stratospheric salary, the new management of Ukrnafta was unable to accomplish the most important task, failing to settle the joint-stock company's rent and tax debts. To be fair, it is worth noting that part of this debt had been paid, and some loss-incurring relations with Privat Financial and Industrial Group (which we'll talk about later) had been severed. However, unlike System Capital Management, Privat is an informal holding company, and direct affiliation between its entities is not always obvious.
After enactment of the aforementioned Law on Joint-Stock Companies and replacement of Ukrnafta's management, the conflict of interests has escalated, and it became apparent that up until March 2015, Ihor Kolomoyskyi and Henadiy Boholyubov reaped profits from Ukrnafta under any circumstances: the company's increasing profits reflected upon their wellbeing as well, but the mounting losses of state-owned assets had miraculously correlated with the increasing profitability of companies affiliated with Privat Group.
Such a state of affairs did not worry Andrii Kobolev, the Chairman of the Board of Naftogaz of Ukraine PJSC which held the controlling stock in Ukrnafta. He was not in hurry to severe Ukrnafta's loss-incurring relations, and because of that, Mr. Kobolev now has problems with the prosecution.
Therefore, in 2015 Ukrnafta gave away crude on credit, without receiving any payments from companies which won oil sale auctions and not even expecting the repayment of debt until 2018. Because of that, its accounts receivable have increased from UAH 2 billion in 2015 to UAH 11.2 billion in 2016. There are reasons to believe that some of these companies are affiliated with Privat Group and aren't going to repay the debt to Ukrnafta at all.
According to a PricewaterhouseCoopers report, the company's accounts receivable for advance payments and accounts receivable for goods, works and services began to accumulate in 2015:
"The Company (Ukrnafta PJSC - А.Т.) made UAH 6,569,696 thousand in advance payments for purchase of petroleum products, with the contractual delivery term of December 2018. In addition, during 2015 the Company sold UAH 7,140,236 thousand worth of crude with the expected payment due date in December 2016. For these transactions, the Company reported in 2015 the net income from sale of products (goods, works, services) of UAH 7,140,236 thousand, financial expenses of UAH 4,764,316 thousand (representing discounting effect upon initial recognition of accounts receivable for advance payments and accounts receivable for goods, works and services), other financial income of UAH 712,592 thousand (amortization of discount), and other operating expenses of UAH 522,895 thousand (depreciation loss)."
Because of debts, losses and unearned profit, Ukrnafta itself was unable to pay taxes and has increased accounts payable to the State Fiscal Service. On top of unpaid tax, the company was charged late fees and penalties, reaching on aggregate UAH 13 billion by 2017. Nobody is in hurry to settle this amount yet.
However, it would've been wrong to claim that the partnership with Privat Group companies brings only losses upon Ukrnafta.
Back in 2015, in order to reduce Ukrnafta's debts, the company's minority shareholders affiliated with Privat Group went to court in the attempt to "update", almost thirtyfold, the price of Naftogaz of Ukraine NJSC's debt to Ukrnafta for the disputed gas produced in 2006. In other words, they wanted to revise old contracts for noncompliance with law and raise prices for the commodity sold back in 2006. By the way, Mr. Rollins still denies Naftogaz of Ukraine NJSC's auditors access to internal information, telling them to make the arrangement with Mr. Kolomoyskyi.
In order to supply gas to the population and in accordance with legislation that was in force at the time, Ukrnafta PJSC as a Naftogaz of Ukraine NJSC subsidiary handed over the gas it produced to the parent company, which delivered gas to end consumers. Back in 2008-2011, Ukrnafta tried to appeal in court the prices set by NCREUS.
Today, due to transition to market pricing and the growing gas prices for retail consumers, Ukrnafta is trying to compel Naftogaz to retroactively commit itself to compensate for former unprofitable trade relationships. Imagine a situation: you and I are traveling together. I'm taking out a chocolate bar to give you a treat. You are hungry, and decide that a few extra calories won't hurt you, and moreover, it's free. So, you agree! A few years later, I'm coming over to you and telling you to pay me back for that chocolate bar as much as it now costs. Surely, Naftogaz did not agree to that. In general, the practice of "updating" the price retrospectively is quite questionable.
Some economists may appeal to the terms "fair" or "economically justifiable" price.
However, when we're talking about billions in penalties or supply volumes, when both parties to a litigation bring highly-paid economists and lawyers to court, it turns out that nobody can tell for sure what "economically justifiable price" is. Generally speaking, justifiable price is the price which the Party A could agree upon with the Party B.
In 2016, Ukrnafta with Mark Rollins at the helm tried to reduce the amount of accounts payable to SFS by revising the contracts on gas supplies to Naftogaz.
But this time, the Briton suggested not UAH 5 billion as Mr. Kolomoyskyi previously did and not UAH 3.7 billion as Naftogaz of Ukraine NJSC evaluated that gas but UAH 13.6 billion. Back in 2014, the Higher Commercial Court recognized Ukrnafta's ownership of 2 bcm of natural gas produced in 2006. In reality, this natural gas has long been nonexistent, and for three years, the fiscal service unsuccessfully tried to appeal the court judgments, because it's physically impossible for taxmen to get nonexistent gas from Naftogaz of Ukraine NJSC in order to sell it and compensate for Ukrnafta's total outstanding tax liabilities.
Everything suggests that SFS is going to have no choice but to somehow write this debt off Ukrnafta, perhaps by reconciling Naftogaz's debt to Ukrnafta and Ukrnafta's debt to SFS.
Everyone has conspired against Ukrnafta
Besides the need to reduce losses and debts, there is the "Sword of Damocles" hanging above Ukrnafta in the form of the State Geological Service's refusal to prolong the company's oil and natural gas production licenses for certain oilfields.
The State Geological Service claims that they tried on numerous occasions to accommodate the Ukrnafta management's requests. In turn, the company maintains that SFS puts pressure on the State Geological Service.
On 4 July 2017, the Cabinet of Ministers has issued the Resolution 519 amending the Procedure of Issuing Special Extraction Permits. According to this Resolution, the State Geological Service may deny an application for a special extraction permit, if the applicant has outstanding extraction rent payments. This year, nine special extraction permits have expired, which caused resentment among the population of the Sumy Oblast where most enterprises which were denied prolongation of special permits are located: their personnel could lose their jobs, and some private houses and households were already left without gas.
Finally, on 26 September the State Geological Service has issued these nine special permits to Ukrnafta in compliance with the judgment of Kyiv District Administrative Court and resolution of Kyiv Administrative Court of Appeals.
But in 2018, another 28 special extraction permits will expire.
The State Geological Service cannot issue new special permits until Ukrnafta settles its debts. In turn, Ukrnafta insists on lowering rent payments.
Even rent won't help?
At first, the expat Rollins truly made an impression of an unbiased professional, a person capable of assessing the company's state from aside and helping set the oil giant's business straight.
Ukrnafta proved its capacity for rapid growth in 2015, as mentioned above. This growth, helped by removal of shadow agents of influence, has also coincided with significant deregulation of gas prices and transition to market pricing. The energy men are shy to talk about it, but the growth of utility tariffs for households and the surge of gasoline prices (even though the global oil prices did not grow) brought substantial income to producers, manufacturers and suppliers of petroleum products.
Skillful at increasing the company's profitability, Mr. Rollins could not resist the temptation of political games. He joined the favorite pastime of Ukrainian oligarchs: lobbying ultra-beneficial terms for businesses by lowering rent payments. He applied to Prime Minister Yatseniuk with a letter reflecting upon the subject of "What if the rent were lower…" His arguments are based on the declining global prices for oil and the search of internal resources for investment.
If we take a look at the price dynamics (Diagram 2) during the past decade, we'll see that oil prices have indeed dropped big time. At least during the past two years, they haven't drastically increased.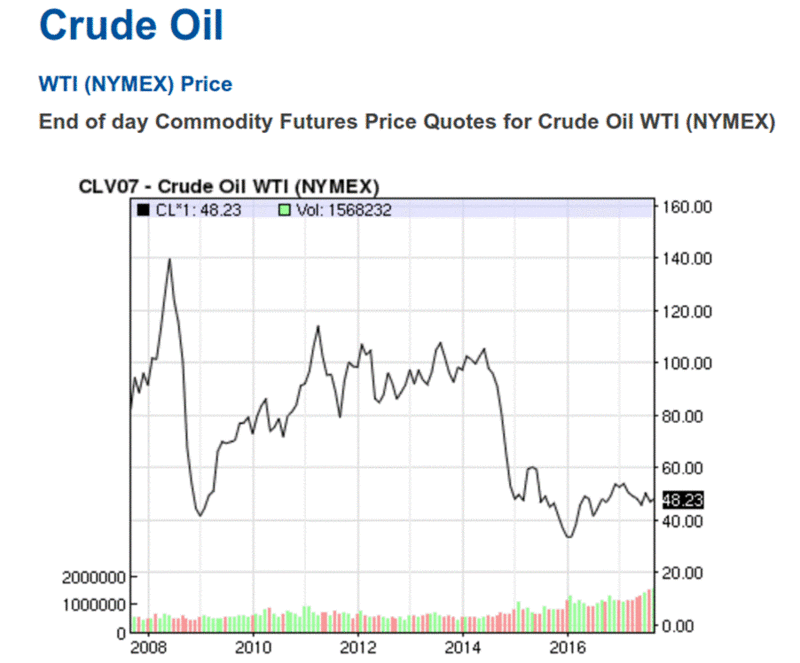 Diagram 2: Crude prices in 2008-2016 (USD per barrel)
However, Ukrnafta Chairman of the Board Mark Rollins joined the company not so long ago. In 2015, he could fear that the price drop below 33 dollars per barrel could become a serious problem for his company. But, oil prices began to rise (Diagram 3).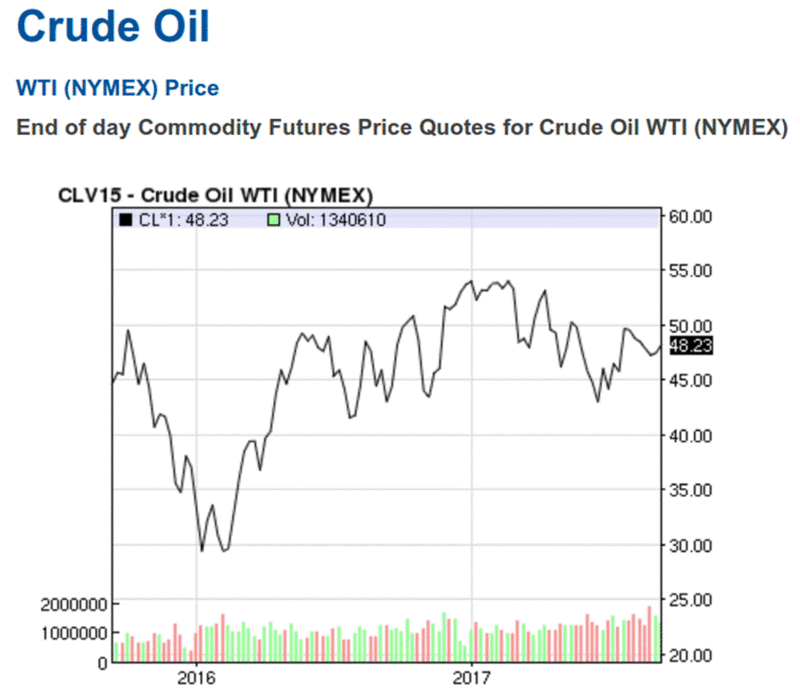 Diagram 3: Crude prices in 2015-2017 (USD per barrel)
In his opinion, the lowering of rent would motivate the company to reinvest undistributed profit into expansion of production.
But even after the new government took notice of Ukrnafta's arguments and went for the lowering of rent rates (from 45% to 29% for oilfields up to 5 thousand m, and from 21% to 14% for oilfields over 5 thousand m), the production output did not increase; on the contrary, it declined.
According to data by the Ministry of Energy and Coal Industry, Ukrnafta's oil production output in January-August 2017 went down by 7.1%, or almost 70 thousand tons comparing to the similar period of 2016.
Surely, this result could be explained by the suspended operation of the aforementioned nine licensed sites. But even after technical wins over the fiscal and geological services, resumption of operation and lowering of rent, Ukrnafta remains the largest tax debtor. And therefore, a problem for the state.
Author: Artem Tidva
This investigation was conducted as part of the USAID project "Transparent Energy Sector". The opinions expressed in this article are those of the author and do not necessarily represent those of the United States Agency for International Development and DiXi Group analytical center.