Schemes of defrauding the state and hiding Zhytomyrgaz's profits
The changing political situation and resonant litigations did not shake the monopoly of regional gas distribution companies, which continue to generate millions in profits for their owners.
"Sitting" on a gas pipeline remains an extremely profitable business, when you know how to siphon money off from the state budget to cover even nonexistent expenses.
Most government crises in Ukraine were preceded by sharp escalation of the natural gas supply issue. The price of imported gas often included "interest" of the political elite, while billions in gas profits helped build an oligarchic pyramid in the country and finance whole political parties and lobbies. It is worth recalling how gas supply contracts cost Yulia Tymoshenko several years of time in prison. As a result, the debt noose provoked by the need to cover from the state budget the difference in overpayment for Russian gas bought on onerous terms was tightening around the country's neck.
"Ukraine was "addicted" to gas from Russia, and the gas supply bred corruption in our country", Ukrainian President Petro Poroshenko said during his June speech devoted to the third anniversary of his term in office as the head of state.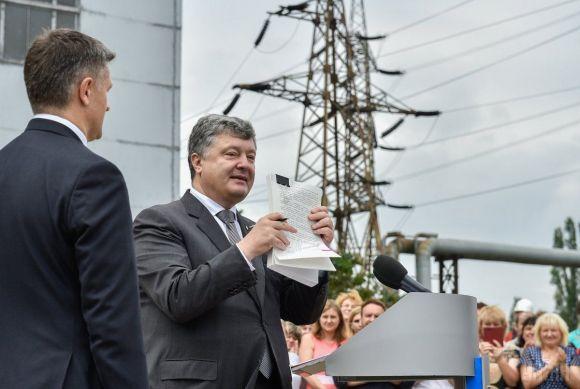 Poroshenko: Ukraine was "addicted" to gas from Russia. Photo by UNIAN
It is not difficult to guess that he meant, first of all, RosUkrEnergo, a company which monopolized for quite a while the supply of gas from Russia, along with domination inside the country. Control over gas distribution companies, which themselves supplied gas on monopolistic terms, guaranteed soaring profits of hundreds of millions of euros thanks to manipulations between regulated prices for household consumers and market prices for industrial enterprises.
Nevertheless, Dmytro Firtash's interest does not fade away even despite the formal separation of the supply function from oblgaz companies and their absolute unprofitability. In the past two years, his Gastech company has even increased the size of its stakes in oblgaz companies. A possible reason for that is the fact that supply of gas in regions, which remains under control of "gaz zbut" companies – oblgaz subsidiaries – is not such an unprofitable business, after all, and the oligarch knows all too well how to exploit this "goldmine".
Growth dynamics of Gastech's stakes in oblgaz companies*:
| | | | |
| --- | --- | --- | --- |
| Oblgaz company | As of 30.09.2013** | Change as of 30.09.2014*** | Stake held as of 01.12.2017**** |
| Lvivgaz PJSC | --- | 13.10 % | 24.95 % |
| Zakarpatgaz PJSC | --- | 21.18 % | 21.18 % |
| Rivnegaz PJSC | --- | 31.67 % | |
| Rivneoblgaz PJSC | --- | 24.75 % | 24.75 % |
| Ternopilmiskgaz PJSC | --- | 7.23 % | 7.23 % |
| Kharkivmiskgaz PJSC | --- | 9.9 % | 9.9 % |
| Chernihivgaz PJSC | --- | 13.08 % | 23.08 % |
| Vinnytsiagaz PJSC | 34.73 % | --- | 48.82 % |
| Volyngaz PJSC | 38.58 % | --- | 48.56 % |
| Ivano-Frankivskgaz PJSC | 35.14 % | --- | 49.42% |
| Luhanskgaz PJSC | 26 % | --- | 49.91 % |
| Sumygaz PJSC | 25.79 % | --- | 46.63 % |
| Chernivtsigaz PJSC | 34.39 % | --- | 49.08 % |
* Source: Gastech PJSC report for 2014
** Source: Gastech PJSC report for 2015
*** Source: Gastech PJSC report for 2015
**** Source: information from the Unified State Register of Business Owners
Rated and above-the-rated losses
Recent years saw the revival of one of the most widely used fraudulent schemes among gas companies, related to rated consumption. Basic rules and technical specifications presently used in Ukraine date their origins back to Soviet times. The absence of metering devices has provoked in the early 2000s a severalfold hike in gas consumption rates. The first wave of installing gas meters led to mass savings. But at the same time, with the relatively stable price of gas for households, the price of this fuel for industrial and budget-financed enterprises was surging. That was how a corruption scheme was born, when oblgaz companies reported on gas subsidized by the state as consumed by households, while in reality selling it to industrial enterprises at a commercial price.
Such a significant difference in prices generated huge profits for regional gas supply companies. They would often go to any lengths to reap the profit, such as creating fictitious customer bases with hundreds, and sometimes even thousands of "dead souls".
Their "juggling act" could be proved only by having full access to their customer database, which every oblgaz company guards like the apple of an eye. But even the recently discovered embezzlement of 9.3 million cubic meters of gas at Kirovohradgaz alone amply indicates that this scheme is still very much in use.
Beginning from 2009, the preceding management was regularly issuing instructions to write off natural gas to nonexistent addresses. The fictitious debt was written off as the company's loss, as if households weren't paying for years. So, the investigators now have to find out where the gas worth UAH 78.3 million actually went.
Along with the price arbitration schemes, technological losses (TL) and own losses (OL) remained a stable source of covering oblgaz companies' losses.
The former occur at the stage of delivering gas to consumers, and include maintenance and repair costs and cost of replacing equipment, devices and connection units. We are talking here about conditional air-tightness of gas pipelines, when certain amount of gas is released via relief valve to reduce excessive pressure in the system. The latter are unrelated to the transmission process, and include heating, hot water supply and ventilation of buildings and facilities of gas distribution companies, etc.
The calculation methodology approved in 2004 allows oblgaz companies to include substantial expenses to estimated TL and OL. For example, Zhytomyrgaz PJSC's estimate for 2014 envisages 9.7 million cubic meters of gas in these losses per year for all gas stoves in the region. In other words, it means 27.6 cubic meters of lost gas per stove (including gas heaters and gas-fired water heaters) on average.
"The methodology for calculation of technological losses is what oblgaz companies have devised for themselves", the energy expert Oleksii Khabatiuk maintains. "It is not possible to compare estimated and actual losses".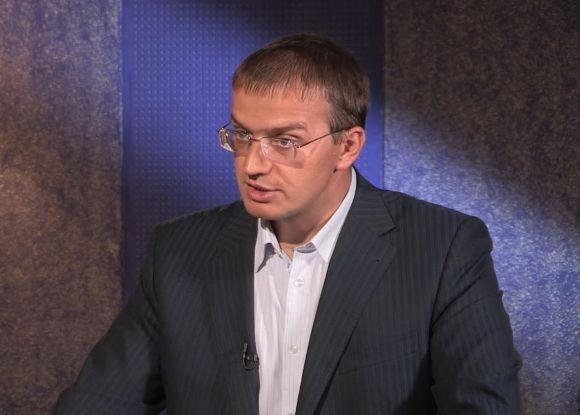 Oleksii Khabatiuk, energy expert. Photo by VoxUkraine
The reason for that is the provision allowing a gas distribution company to calculate planned losses by itself, in most cases estimating them as much above the maximum rates as possible. It is a partially justifiable practice, because obsolete equipment at gas distribution companies and high degree of wear of gas pipelines, many of which have outlived their service life, do not guarantee the system's required air tightness.
"The rate at which gas pipelines and facilities are aging and becoming unusable is actually five times higher than the amount of financing provided for their reconstruction and replacement", Zhytomyrgaz PJSC Technical Director Serhii Kolesnik admits.
On the other hand, nobody except oblgazes has credible information regarding the actual state of affairs in the gas distribution sector. However, special programs purchased by the monopolies allow to track the situation in real time.
"We have an excellent software product with a map, photographs and complete information about the state of gas pipelines and how much was invested in repairs", Zhytomyrgaz PJSC Chairman of the Board Valentyn Yushchenko says.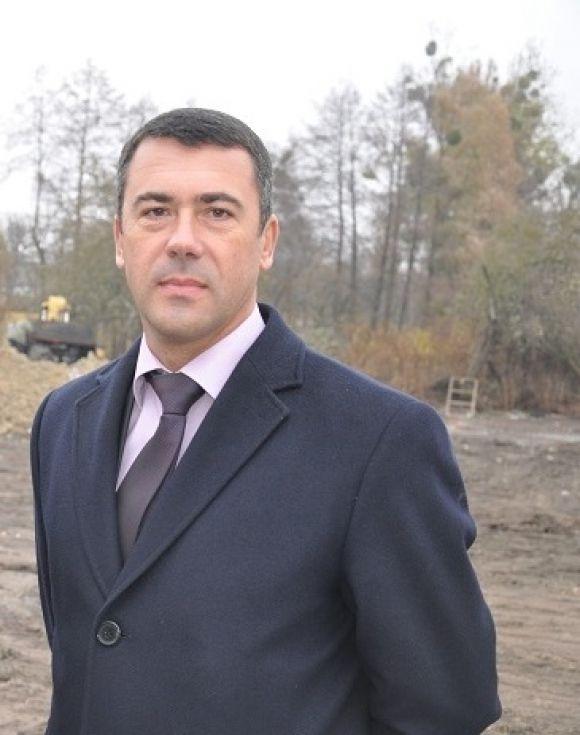 Valentyn Yushchenko, Zhytomyrgaz PJSC Chairman of the Board (photo by Zhytomyr Oblast State Administration)
So, how could the experienced management, "armed" with such a high-tech solutions, not notice where are the largest losses in their own gas distribution business? Most likely, they know it very well, but don't want to admit.
According to a TL estimate below, the main source of losses is pressure control valves. In the Zhytomyr Oblast, this figure amounts to almost 20 million cubic meters per year, with in-building control valves being responsible for half of this huge amount. In monetary terms, 10 million cubic meters translate into 68 million hryvnias, which every year literally evaporate into the air near every one of our buildings!
In total, there are 54.7 thousand such devices installed in the region. Their initial market price ranges from 600 UAH for a domestically-manufactured model to 2400 UAH for an imported counterpart. Let's assume that the oblgaz has indeed resolved to sharply reduce TL. For that purpose, they decided to replace all in-building pressure control valves. So, we come up with a figure from UAH 32,820 thousand (600 UAH × 54.7 thousand valves) to UAH 131.3 million (2400 UAH × 54.7 thousand valves).
In other words, we waste as much gas in half a year because of obsolete equipment as it would've been sufficient to completely replace it with brand new models! And if we want a quality guarantee from a European manufacturer, we'd have to wait 2 years at the most.
Is it a good thing? Of course it is, you'd say.
However, government postulates and the calculation methodology approved by the ministry concerned tell the opposite. It is absolutely unimportant how new, of what quality and how rationally installed a pressure control valve in your building is. What's important is that every day, half a cubic meter of lost gas could be attributed to it. And the more oblgazes have them, the fatter becomes the amount they claim.
Planned and approved technological losses at Zhytomyr PJSC
| | | | |
| --- | --- | --- | --- |
| Item | 2014 | 2015 | 2016 |
| Total gas stoves (including water heaters and heating) | 352034 | 355455 | 176274 |
| Converted into gas losses (thousands m3) | 9726 | 9891 | 3359 |
| Number of pressure control valves in ШРП/ГРП | 1763 | 1804 | 1353 |
| Converted into gas losses (thousands m3) | 9910 | 10140 | 5874 |
| Total number of in-building pressure control valves | 54690 | 57297 | 25997 |
| Converted into gas losses (thousands m3) | 9981 | 10456 | 4757 |
| Total included to TL estimates (thousands m3) | | | 27900 |
| Including losses approved by the Energy Ministry (thousands m3) | | | |
The above tables clearly show the dependence of future losses of natural gas on the quantity of equipment included to estimates. In turn, the growth of TL directly bears upon the growing tariffs for all of us as end consumers.
In 2014 and 2015, the Ministry of Energy and Coal Industry has "cut" the estimated losses submitted by oblgaz companies almost in half. The appetite of gas distributors was satisfied only in 2016, when the quantity of the aforementioned equipment, after shrinking almost twofold, began to approach the actual figure.
Schemes of "washing out" billions from oblgazes
So, the question is this: how could the majority of oblgazes, given such gas transmission and distribution tariffs and such a huge technological loss estimates, become unprofitable all of a sudden? To answer this question, we have to take a closer look into their financial and corporate ties.
It is not a secret that the oligarch Dmytro Firtash owns the majority of oblgazes via a number of offshore companies. They operate under the Regional Gas Company (RGC) LLC brand, but the key role in this organizational "pyramid" is played by Gastech PrJSC.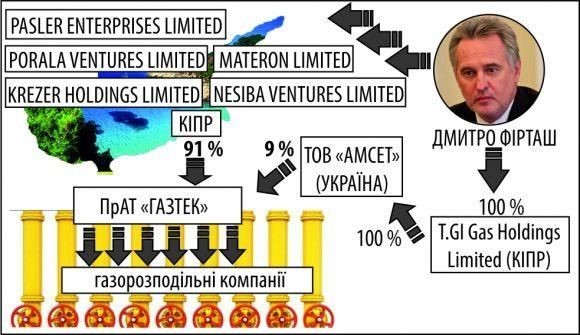 ​Gastech ownership structure
Source: Gastech PrJSC report for 1Q 2017; public registers.
Along the "Cypriots", we can find a Ukrainian company among the Gastech's owners as well. It is a little-known company called Amset LLC, holding a relatively insignificant stake of 9%. Dmytro Firtash's name and home address are stated as those of the ultimate beneficial owner, via the Cyprus-registered offshore company Т.GI Gas Holdings Limited.
Since the beginning of 2014, suppliers of Mr. Firtash's oblgaz companies began to buy gas en masse via RGC Trading. The buy price was almost twice as high as the market price. Thus, Dniprogaz paid 517 US dollars per thousand cubic meters of gas in January 2014, when the market price was 268 US dollars.
The founder of RGC Trading is the aforementioned Т.GI Gas Holdings Limited. However, its ultimate beneficial owner is not mentioned in the public register, although as follows from information regarding Amset, the owner is that very Dmytro Firtash.
Now, let's find out why oblgazes would want to buy natural gas solely from RGC Trading.
Fact is, under agreements like that, the entire profit lands in the accounts of the intermediary, while the affiliated gaz zbut companies earn nothing. In July 2017, the National Police has launched, for the first time, a criminal investigation into this practice. RGC Trading and Chernihivgaz Zbut officials are suspected of abusing their official capacity for the purposes of creating tax credit and overpricing:

Source: judgment of Desnianskyi Raion Court in Chernihiv of 09.11.2017
In turn, Gastech has raised over UAH 4.2 billion during the last three years by placing bonds on the Eastern European Stock Exchange. Notably, the chairman of that stock exchange's board of directors is Maksym Mykolayovych Marchuk, who simultaneously is at the helm of the aforementioned Amset LLC. According to information from the National Securities and Stock Market Commission, most bond purchase agreements made in 2015 concerned Gastech's securities.
UAH 3,255 million was raised this way. It is worth noting that given the-then average interest rate of 20%, the yield on these bonds in the national currency was thrice lower: some meagre 6.5% per annum.
The buyers of these bonds were Gastech-controlled oblgaz companies. Therefore, almost all working capital was siphoned off from these companies. The remaining money got lost in Nadra Bank. During one of the press conferences, Lvivgaz Chairman of the Board has admitted that Gastech owners forced him to buy the bonds and deposit funds in a bank account.
"We have 100 million in subordinated debt (money lost at Nadra Bank – editor's note)", the-then Chairman of Lvivgaz Volodymyr Zlenko admitted. "We have minutes of supervisory board's meetings for all transfers of funds. Whether I like it or not, I must comply with them, because like the rest, I am not the company's owner but a hired manager".
Resolutions adopted by supervisory boards allowed Nadra Bank acquired by Dmytro Firtash to finance his own companies. In June 2015, the Prosecutor General's Office has opened a criminal investigation into deliberate bankrupting of a bank. The court judgment mentions over 8 billion hryvnias and 1 billion US dollars siphoned off from the bank.
These loans could hardly be issued without the knowledge of Mr. Firtash himself, and most likely, they represent a link in a chain of "washing out" oblgazes' funds with the participation of the bank's senior management via numerous accounts of "cushion" companies. Today, gas distribution companies are actively writing off tens of millions lost as a result of Nadra Bank's bankruptcy as the so-called uncollectible debt. In other words, they admit that they will never recover the funds deposited in the accounts at that bank, and therefore, will suffer huge losses.
In particular, Zhytomyrgaz has reported UAH 56 million as a doubtful debt and wrote this amount off in 2015. The next year (2016), this figure was even higher: over UAH 97 million. That explains why the company's losses in the past four years have increased from UAH 3 million to UAH 136 million.
In addition, tariff proceeds include the full amount of wages paid to Zhytomyrgaz PJSC personnel. On the one hand, the National Commission for Regulation of the Energy and Utilities Sectors is requested every year to approve the salary raise and bring the average earnings at the company to the industry's average. On the other hand, oblgazes themselves regard combining positions and workload increase as the only way of raising personnel's wages.
"We offered our people, for instance, drivers, to work as mechanics by undergoing free training first. This way, they could be paid as a mechanic and as a driver at the same time", Volodymyr Zlenko revealed professional secrets.
It seems that the rest of oblgazes have adopted a similar approach as well. In March 2015, when the interview with Mr. Zlenko was published, Zhytomyrgaz's personnel was some 1700 persons earning the average monthly salary of 2787 UAH. As of the end of 2016, the number of personnel went down to 1285, while the average monthly salary has increased to 6218 UAH. But even the National Commission for Regulation of the Energy and Utilities Sectors doesn't know how much this salary increase concerns ordinary employees. When approving pay raises like that, the industry's regulator takes into account average indicators, and that allows the top management to decide at own discretion whether to raise the specialists' pay or to pay fat bonuses to themselves.
Joint responsibility for debts
Having left penniless, oblgazes stopped to pay for the consumed gas and sharply increased their accounts payable to Naftogaz of Ukraine NJSC. According to information which Naftogaz made public, their aggregate debt continues to grow, reaching UAH 34.1 billion. Naftogaz was conferred the status of the so-called "guaranteed supplier" of gas to the public. However, it simply cannot do without the "services" of oblgaz companies.
"Actually, the only thing these "suppliers" do is billing and collecting money from households. For that, the intermediaries receive a fee stipulated in the agreement", Naftogaz of Ukraine NJSC Director for Development Yurii Vitrenko says. "While accumulating huge debts for gas taken from Naftogaz, they claim that it's the broad public who owe them. We can't check that".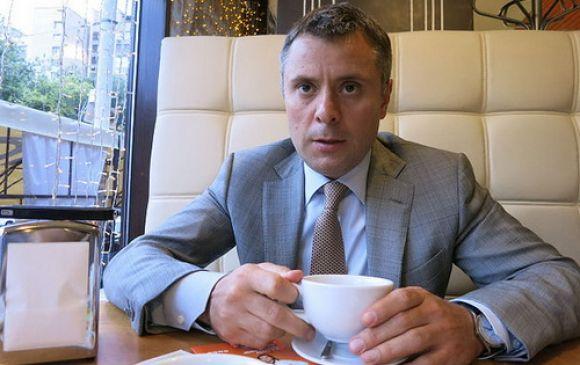 Naftogaz of Ukraine NJSC Director for Development Yurii Vitrenko. Photo by Serhii Leshchenko
In fact, such a negative rhetoric was provoked by the changing role of the state company, which is the largest intermediary in the natural gas market today. Until recently, despite the existing debt of UAH 10 billion, regional gas distribution companies generated hefty profits for Naftogaz. During six months of 2016, the company received UAH 12.2 billion in gross profit from the UAH 24.2 billion worth of gas resold to households. After deducting other expenses, that figure leaves UAH 8.7 billion in net profit.
Beginning from 2017, with the quite modest markup charged by Naftogaz on natural gas supplied to gaz zbut companies, it has to settle debt using real money. If no timely payments are forthcoming from oblgazes, Naftogaz is frequently forced to take out bank loans. As a result, during six months of this year, special obligations imposed by the government cost Naftogaz UAH 1.9 billion in direct losses.
In turn, delays in remittances from gas supply companies were caused by amendments to the debt settlement procedure approved by the Ministry of Energy and Coal Industry. We're talking about the mutual write-off of debts owed by gaz zbut companies for natural gas supplied by Naftogaz by the amount of subsides provided to the public. Until the end of November 2016, calculation protocols included the full amount of benefits and subsides issued to individuals. Gaz zbut companies were happy with that, because consumption rates significantly exceeded the actual needs for natural gas. Regardless of whether households burned or saved the subsidized cubic meters of gas, this gas was credited to gas supplying subsidiaries of oblgazes as paid to Naftogaz.
Since the end of last year, calculations include only the actually-used benefit amounts. It means that natural gas suppliers must issue a statement of the actually consumed gas volume, which protracts the protocol signature process and prevents them from including the unused gas. The one-and-a-half-times reduction of the social consumption rate (natural gas consumption rate for households not equipped with a gas meter) for individual heating has reduced even more the amount of compensations payable to gas supply companies.
The monetization of the remaining subsides, which the government set at 100 cubic meters of gas saved by households, was combined with the write-off of the entire volume of unused gas to the budget. This way, the overpayment by the public has turned into the debt owed by oblgazes to the state.
In turn, gas companies are not in hurry to pay for the natural gas they used, claiming unfounded lowering in 2014 and 2015 of technological loss rates by the Ministry of Energy and Coal Industry. The annex to the ministerial order issued in September 2015 was ruled invalid. The ruling was handed down by the infamous judge Ruslan Arsirii, known for entering judgments like that while on an exotic foreign voyage. However, instead of Kyiv Court of Appeals, the application for appeal filed by the Ministry has landed in Vinnytsia. While it was in transit to the right address, the deadline for appeal has expired, and the Ministry of Energy and Coal Industry has lost again. On the third occasion, the court has denied the application because of the failure to pay the filing fee. The Ministry could not find 1218 hryvnias to appeal the award of several hundreds of millions to oblgazes.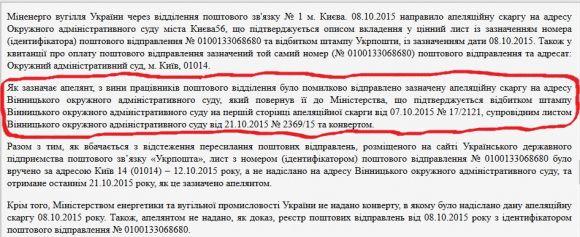 A screenshot of the court judgment No 54273355 of 11 December 2015
To relay the stance of the Ministry of Energy and Coal Industry, the author made numerous attempts for three months to contact the Deputy Minister of Energy Ihor Prokopiv. However, even on official reception days and despite prior appointments, every time the official was becoming unavailable due to urgent matters. If not a commission then a college, if not a meeting then a reception or a conference.
In the meantime, most consumers will soon have to face mass tariff raises by gas suppliers. In several regions, courts have already entered judgments obliging the National Commission for Regulation of the Energy and Utilities Sectors to compensate the difference between estimated and approved consumption rates. In addition, tariffs will include the amount of the so-called unearned profit. It's when a company planned to distribute a certain volume of gas, but in view of declining consumption of gas by households, it didn't receive the expected revenue.
At the same time, the stance of executive authorities, which unquestionably support the new tariffs charged by oblgaz companies, seems very strange. Public discussion of the tariff change introduced in 2017 takes place, in particular, in the Zhytomyr Oblast with the complete approval by Zhytomyr Oblast State Administration. Not a single objection was heard from them to the proposal from Zhytomyrgaz PJSC to raise the transmission tariff from 634.9 to 945.3 hryvnias (per thousand cubic meters of gas). The main expense items (455 out of 576 million UAH, or 79%) were labor costs with assessments and gas losses. Given the 50% tariff hike, the fee for lease of state-owned gas pipelines, which was included last year, did not exceed 5% of all expenses.
This year, the appetite of gas companies has tripled. For every thousand cubic meters of gas transmitted in the Zhytomyr Oblast in 2018, they will charge more than 1804 hryvnias (distribution tariff per thousand m3). Besides another salary raise, we see here compensation of the difference in prices and of technological gas losses, and additional capital investments. In the end, Zhytomyrgaz PJSC's estimated profit would increase almost ninefold, from UAH 11.4 million to UAH 90.6 million! And again, with the complete support from Zhytomyr Oblast State Administration…
One can't get rid of the impression that despite public declarations of the implementation of an open gas market and protection of gas consumers' interests, private business interests continue to reign at the local and national levels. New rules did not change old habits of gas distribution monopolies not to spend on own investments, to modernize at somebody else's expense only and to continue to strive for hidden profits.
This investigation was conducted as part of the USAID project "Transparent Energy Sector". The opinions expressed in this article are those of the author and do not necessarily represent those of the United States Agency for International Development and DiXi Group analytical center.