Nord Stream 2 is testing Western values for strength
Discussions of the joint statement by Germany and the United States on transmission of Russian gas and energy security of Europe do not subside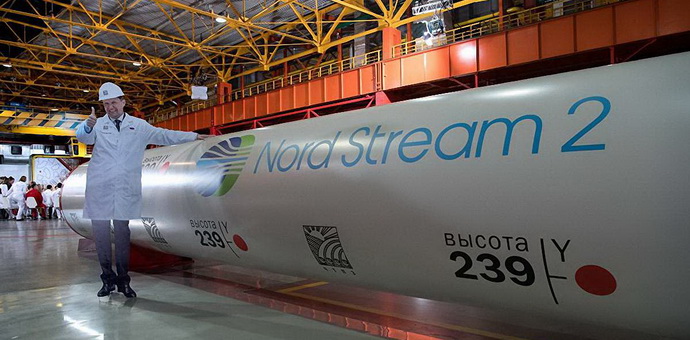 The talks continued since February of this year, and the final agreement reached by Berlin and Washington became known on 21 June. As follows from the joint statement of the allies, they have eventually agreed that construction of Nord Stream 2 should be finished, and in exchange, Ukraine will receive certain guarantees and commitments from them. But these were mere words, without any implementation mechanisms and even, as became clear later on from Angela Merkel's press conference, without support from the United States Congress. This story is generally similar to the Budapest Memorandum, experts say.
Ukrainian Energy analyzed the options Ukraine has for maneuvering on the political stage.
What the agreements in the West mean for Ukraine
The joint statement by Berlin and Washington summed up the working visit of German Chancellor Angela Merkel to the United States and her meeting with President Joe Biden, where they discussed the Nord Stream 2 pipeline project, gas transit via Ukraine and the use of energy by Russia as a weapon.
This document begins with the assurance that the United States and Germany strongly support the sovereignty, territorial integrity, independence and European choice of Ukraine, and declare that strong measures must be taken against the Russian aggression and Russia's destructive actions in Ukraine and elsewhere. The two countries, the statement continues, promise to work together to ensure that the United States and the EU have adequate instruments of responding to Russian aggression and the attempts to use energy as a weapon. The two Western states also agreed that it is in interests of Ukraine and Europe to continue transit of Russian gas via Ukraine's gas transmission system after 2024.
Germany has separately promised to use all available instruments of influence to ensure transit of Russian gas via Ukraine for up to ten years. For that purpose, it will appoint a special envoy with the funding of 70 million dollars, and the talks concerning this matter should commence by 1 September at the latest.
There are also other points of commitment that do not directly concern gas transit and Nord Stream 2 but which must signify the readiness to support Ukraine with economic measures. They include the US 1 billion Green Fund for Ukraine, bilateral renewable energy and energy efficiency projects, support for gradual discontinuation of coal use and assistance with integration into ENTSO-E.
However, DiXi Group President Olena Pavlenko says, the agreement between the United States and Germany contains no real instruments of ensuring fulfilment of their commitments.
"It is unclear what instruments Berlin can use to put pressure on Gazprom and force them to prolong the contract. At some point, Russia will say: transit via Nord Stream 2 is cheaper, so let's keep Nord Stream 2. And Germany will say that it's better for their businesses, so they agree with that. We cannot trust guarantees that aren't underpinned by anything in the document," the expert emphasizes.
Ukraine Foreign Ministry pointed out the absence of clear legal guarantees as well: Minister Dmytro Kuleba said that our country would prefer stronger formulations concerning security issue laid down in the American-German statement on Nord Stream 2.
"At the moment, we have a lot of questions about how the American-German agreement can reduce Nord Stream 2-related security risks for Ukraine and countries of Central Europe. We will talk to the United States and Germany about this issue. We wish that formulations in the American-German statement concerning specifically security issue were stronger," the Minister reacted to the statement.
On the other hand, Russia seems to be quite satisfied with the outcome of the Western talks. It looks like the Russians aren't going to give due regard to the American-German memorandum, in particular, when it comes to fulfilment of transit guarantees. On the next day after the talks, Kremlin Press Secretary Dmitry Peskov said that gas transmission is a commercial, not political matter.
"The talks about transmission of gas via Ukraine after 2024 have commercial nature; they aren't conducted by the presidents of countries," he said, de-facto confirming that the U.S.-German memorandum not only contains no guarantees of its fulfilment but also, in fact, no real compensations for Ukraine, either.
The price of this agreement without guarantees will translate for Ukraine as a transit country into at least 5-7 billion dollars in direct losses, Olena Pavlenko says.
"We stand to lose the entire transit and lose the operator of gas transmission system. It does not correlate in any way with the 1 billion and 175 million that will be allocated to us (investments in the Green Fund, guaranteed by Germany and the United States – editor's note). In other words, even the real compensations we were promised won't be forthcoming. Germany simply uses (as guarantees – editor's note) the priorities that already exist in the European Union concerning Ukraine," the expert points out.
Naftogaz stresses that the guarantees of transit must be underpinned at least by capacity bookings from European companies.
"If we say that Nord Stream 2 is a harmful project, let's fill up our gas transmission system for 10 years, then. However, it should be done not under some guarantees given by Russia but by making sure that European companies have these guarantees from, for instance, the German government. In that case, these European companies will book our capacity on the Ukraine-Russia border, and if Russia breaches its obligations, it would be obligations to European companies, not to Ukraine," Naftogaz Group's Director for Energy Efficiency and Asset Management, Vitali Shcherbenko, says.
Launching Nord Stream 2 contrary to the Third Energy Package?
Opponents of the Russian gas pipeline project pointed out on numerous occasions that this project is not compliant with the Third Energy Package.
For instance, the Third Energy Package does not permit a unilateral control of production, transmission and sale of gas. That's why Ukraine was required to detach the gas transmission function from production and trading assets. The fulfilment of this requirement, our European partners maintained, would guarantee the continuation of transit via the Ukrainian gas transmission system and make Ukraine a part of the civilized gas market.
"Ukraine has done its "homework" of ensuring compliance with the Third Energy Package. We did the unbundling. However, we expected the European Commission to put forth the same requirements to other gas projects as well," Vitali Shcherbenko expresses his stance.
Will European rules be applied on equal terms to everyone?
"Everybody understands that there is one man in Russia who controls both production of gas and transmission of gas via this pipeline. And that man isn't even Alexey Miller – it's Vladimir Putin," Naftogaz of Ukraine NJSC Chairman Yuri Vitrenko stresses.
But contrary to that, Gazprom's pipeline project was greenlighted. And Gazprom itself, sensing a weakening on part of the West, has already begun taking nonmarket actions. On the eve of release of the U.S.-German statement, the Ukrainian Energy Exchange noticed a dumping by the Russian company of future gas deliveries via Nord Stream 2. While at the Dutch hub TTF gas deliveries during this winter and the first half of 2022 are traded at 253-400 dollars per thousand cubic meters, Gazprom offers Russian gas deliveries during the first quarter and the entire year 2022 at the price of 180 dollars for similar volumes. It's yet another example of Europe ignoring the proof that Nord Stream 2 is not an economic project.
Naftogaz Chairman believes that this situation still can be changed. The European Commission can do that.
"In order for a gas pipeline to operate commercially, the operator of this pipeline must be certified according to the Third Energy Package. The certification is done by the German regulator, but in consultations with the European Commission. And the European Commission and the German regulator can say at any moment: "sorry, you're not compliant with requirements of the Third Energy Package." These requirements are very strict, and if they are applied in practice, not formally, this pipeline might never become commercially operational," Yuri Vitrenko stresses.
An unexpected ally from the United States
After the statement was made public, German Chancellor Angela Merkel admitted that its text wasn't agreed with the U.S. Congress. Today, this is the major American ally of Ukraine in combating Nord Stream 2. Joe Biden's decisions and statements that construction of this gas pipeline cannot be prevented from completion caused dissatisfaction among the congressmen from both parties, Democrats and Republicans alike.
"President Biden challenges U.S. laws, and has completely surrendered to Putin. As before, dictators will reap billions from Biden's gift, and Europe, as before, will be subjected to Russian energy blackmailing," U.S. Senator Ted Cruz (R-Texas) said. According to reports, Republican senators demand that the Biden administration imposes fresh sanctions against construction of the Russian-German Nord Stream 2 pipeline, threatening to block the appointment of two candidates for the U.S. Treasury.
"Recent talks indicate substantial support for Ukraine among American senators and congressmen. Representatives of both Democratic and Republican parties realize that Nord Stream 2 is a geopolitical project that must be halted. They share our concern that this project poses a clear threat to Ukraine's security and that this project will bring corruption to Europe and divide Europe," Yuri Vitrenko adds.
In light of the foregoing, the Congress still can demand the immediate application of sanctions by the U.S. administration. In addition, the U.S. Senate can impose sanctions on the company undertaking to certify Nord Stream 2, or apply sanctions in the future against the companies wanting to receive gas via the Russian pipeline.
Ukraine must strive for full participation on international stage
The text of agreement was formulated without participation of Ukraine, the country's Foreign Ministry stressed. So now, Ukraine needs to show our Western partners that our fate cannot be decided without us.
"Nobody invited Ukraine to these talks, and Ukrainian interests weren't taken into account during these talks. In fact, everything was decided without us. It's a very bad signal, because Russia claims that we are a country that always must be ruled. Therefore, this process and its outcome play into Russia's hands. If you want to be a party to international politics, you should work on becoming one," Olena Pavlenko emphasizes.
In addition to the continuation of talks with the European partners and U.S. Congress and interaction with the European Commission, Ukraine can start putting together a coalition of Eastern European states around itself, including Poland, Lithuania and Slovakia.
Recently, Poland won a European Court ruling that limits the use of the OPAL, a gas pipeline affiliated to Nord Stream 1. If Poland as a EU member state files another similar lawsuit, Ukraine could join this proceeding and provide its arguments against Russian-German gas pipelines. Ukraine and Poland have already agreed on cooperation. In particular, their joint statement says, the two countries will work together with their allies and partners to combat the launch of Nord Stream 2 until solutions are developed to overcome the security crisis, provide support to countries in their desire to become members of Western democratic institutes, minimize threats to peace and energy security. Poland also made their stance clear: by agreeing to complete construction of Nord Stream 2, Germany breached energy solidarity and the United States made a strategic mistake.
Separately, Ukraine initiated talks within the framework of its Association Agreement with the EU.
"According to Article 274 of the Ukraine-EU Association Agreement, Ukraine officially initiates consultations with the European Commission and the Federal Republic of Germany concerning Nord Stream 2, which poses threat to Ukraine's security and violates diversification principles of the EU Energy Union. The Foreign Ministry has already sent the relevant notes to Brussels and Berlin," the Foreign Minister said. Germany responded by saying that they are ready for these talks.
Therefore, the process continues. However, if no real levers of influence over Nord Stream 2 could eventually be found, it would show that Europe itself can disregard its own principles it says are obligatory for Ukraine. And that, in turn, would trigger a serious crisis of trust in Western values.