Are Ukrainian gas distribution networks ready for hydrogen?
30 October 2020
Олеся Натха, спеціально для "Української енергетики"
On 30 October, Ukrainian Energy wrote about the results of the first experiment featuring transmission of hydrogen via gas distribution networks.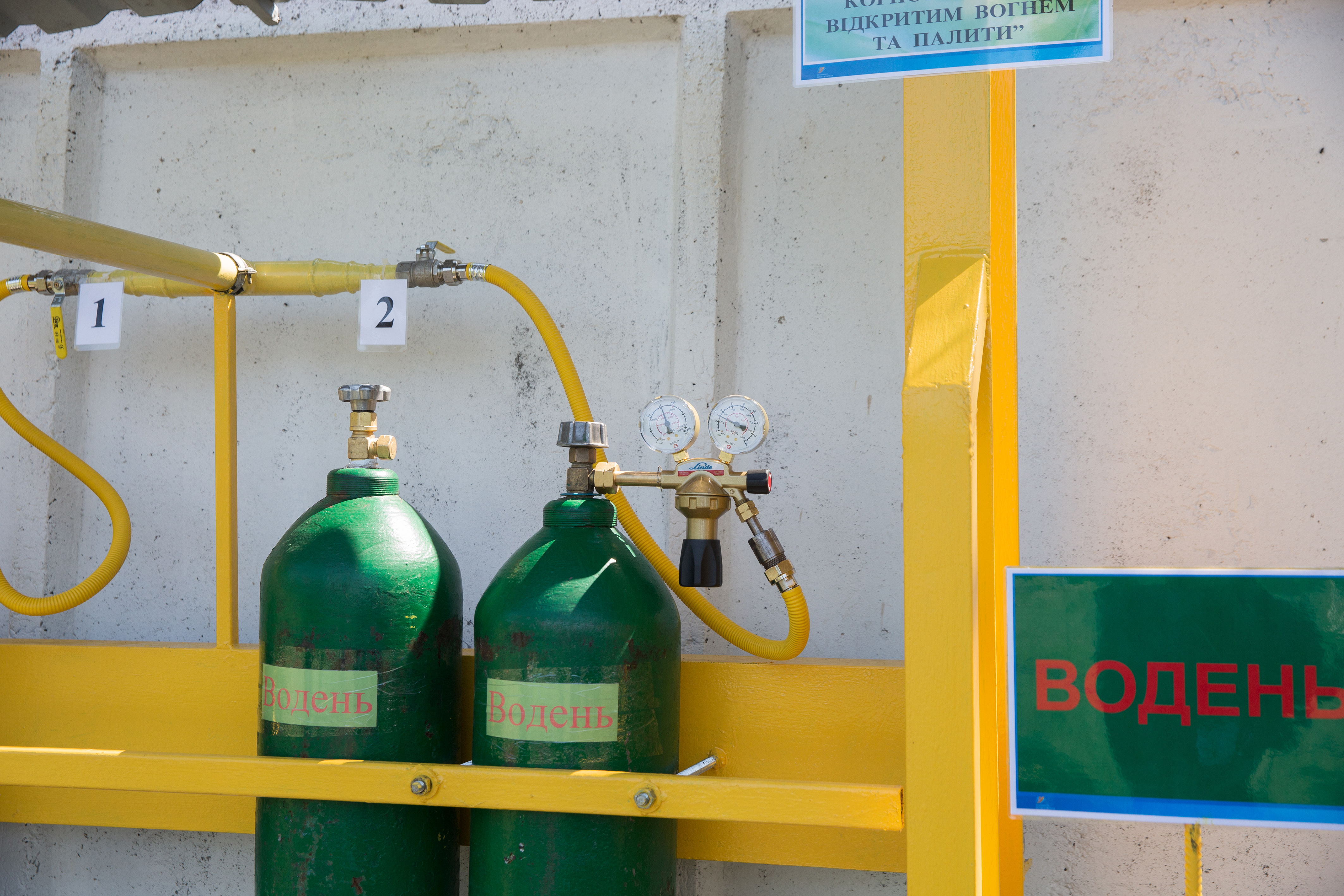 No matter how heated disputes concerning the practical side of using hydrogen power in Ukraine are, tests of hydrogen transmission via gas distribution networks are already underway, producing first results. Regional Gas Company (RGC) reported on the completion of the first phase of hydrogen tests on RGC's testing grounds in five regions of Ukraine, where gas network models were tested for compatibility with 99-percent concentration hydrogen.
The company also started tests with the gas mix of 50-percent hydrogen. Presently, the experiment only helps identify the system's "weak spots", but in the end, it must give a clear idea of how to upgrade the network for the future use to transmit gas mixes with hydrogen or synthetic gases. For details of this experiment, and to find out how to prevent heightened danger when using hydrogen in gas distribution networks, read the article in Ukrainian Energy.
Climate change dictates terms
The EU Hydrogen Strategy was presented in July in Brussels. According to Ukraine Foreign Minister Dmytro Kuleba, the EU hopes that Ukraine will become one of the priority partners in supplying hydrogen to Europe.
The EU Hydrogen Strategy is a part of the European Green Deal, whereby the EU plans to reduce СО2 emissions by 100 million tons every year and completely discontinue the use of fossil fuels by 2050. Domestic taxation of carbon dioxide emissions in Ukraine may be supplemented with the introduction of a new mechanism for carbon adjustment of imports in the EU in 2021-2022.
According to the President of the Ukrainian Hydrogen Council, Oleksandr Repkin, carbon tax on imports is intended to equalize the rules of the game for manufacturers in EU states and outside the Union and stimulate companies to reduce СО2 emissions, for otherwise, the price of goods imported to EU markets will rise. "Ukrainian manufacturers can avoid the proposed charge if they implement climate standards similar to those in Europe," he said.
Is it possible to transmit a hydrogen mix via existing gas distribution networks?
It's definitely possible, Leonid Unigovskyi, Chairman of the Expert Council for Development of the Gas Industry and the Natural Gas Market, believes. "The point is, firstly, how much the hydrogen concentration in this mix is; secondly, what needs to be done to enhance the safety of supply; and thirdly, when and how regulatory documents allowing to do that in Ukraine will be developed," he said in a commentary for Ukrainian Energy. But at the same time, the expert pointed out that it won't happen overnight: "Objectively, I see the use of these mixes not sooner than in 2026-2027." He also said that in order for that to happen even in those years, a substantial portion of theoretical and experimental research and a huge work must be done now.
Volodymyr Omelchenko, Director of the Razumkov Center's Energy and Infrastructure Programs, believes that the prospects of practical use of hydrogen mixes in the existing gas distribution networks are remote, stressing that this matter needs an in-depth study on the basis of practical tests.
First results of the experiment
Generalizing the results produced by the 15 completed tests on RGC's five testing grounds, it could be fair to say that presently, Ukrainian networks are not airtight for pure hydrogen. The absence of airtightness for hydrogen manifested itself in the form of pressure decline by at least 2.5% per day, Stanislav Kazda, head of the hydrogen project and Director of RGC's Strategic Planning Department, told Ukrainian Energy. It is worth reminding that these conclusions concern the experiment's static phase involving pure (99%) hydrogen.
"Not all materials used in the construction of gas distribution networks – and the majority of these networks were built 30-40 years ago and are conformant with the state standard (GOST, used in Russia), not with the European standards applicable today – can be used for hydrogen or for gas mixes," he said.
According to the project head, approximately 50% of pressure was lost on every testing ground during one week (46% during 14 days). Therefore, almost half of the volume of pure hydrogen injected into the pipe was lost. In the dynamic phase of the experiment, even greater losses could be expected.
"There were two major reasons for the loss of gas," Mr. Kazda explained. "Firstly, the traditional lack of airtightness in the connection points. But that accounts for only a portion of the pressure drop. A certain portion of its decline was caused by the permeability of hydrogen with materials. That means either hydrogen permeating into materials or the material of the pipe permeating into the gas."
"Our assumption that we'll need to somewhat change the architecture of Ukrainian gas distribution networks by having to remove threaded and flanged joints has proved itself correct," he said. "The problem of tightening detachable joints stems from the fact that the size of the molecule of hydrogen and its mixes is smaller than that of natural gas, methane and admixtures. The decision regarding transition to the minimal number of detachable joints will be one of the key points. In the future, the large number of these connections may become a fundamental problem with the airtightness of gas distribution networks for not only hydrogen mixes but also synthetic gases."
Testing will take more time
The tests will include an in-depth study of how hydrogen interacts with the material of not only joints but also the pipe itself, and that will take much longer. As Mr. Kazda said, special attention will have to be devoted to certain materials conformant with GOST standards and at the same time not having analogues in European regulations.
"Presently, we are working on the methodology of an experiment that should start by the end of this year," the project head said. "It will continue for almost three years." According to RGC, the company wants to study the impact of hydrogen on a certain material over the periods of 1, 3, 6, 12 and 36 months based on several parameters, including two most important ones: for steel materials – the effect on internal corrosion from a long-term use of hydrogen, and for polyethylene – the material's permeability with hydrogen and the effect on the material's brittleness.
Again, it concerns the 99-percent hydrogen mix. "We have to identify the most critical option, because when we understand the limits, we could be able to work with lower concentrations," Stanislav Kazda stressed.
The biggest problem is explosiveness
The ability of hydrogen to create an explosive mix makes it much more dangerous than natural gas. The leaks occurring during the experiment were purposefully left unfixed (except those posing threat to the safe operation of the testing ground), because there was a task of calculating the statistics of losses. The tests were almost never brought to the level of dangerous concentration of lost hydrogen, except in a few cases. Moreover, a testing field is an open space.
However, a question arises concerning safety in the conditions of real networks, in the case of, say, closed space or without direct participation and thorough control on part of a team of specialists, as it was in the conditions of a testing ground.
The head of the hydrogen project said that, firstly, before injecting any amount of hydrogen into the network a large-scale consumer training campaign will need to be organized, up to having every one of them to sign a document declaring awareness of the risks of working with this type of gas, which is more explosion-prone due to the easier formation of a dangerous concentration, etc. In his opinion, this training must be organized by the government by engaging specialists capable of talking to everyone and explaining complex things in the layman's language. The need in a training like that is not something specific for Ukraine only.
Secondly, one of the major requirements to the use of hydrogen is the availability of gas contamination sensors in every facility where a consuming device is installed. "From my point of view, the only option is to have these sensors connected to a centralized control point and communicate gas contamination information without waiting for someone to call," Mr. Kazda explains. In his opinion, it could be sensors connected via GSM networks. The use of a remote valve shutting off hydrogen supply to a particular facility is also being considered.
"We need to develop a new operation methodology," he generalizes, "and that's one of our goals: to make the first draft of new rules for operation of gas distribution networks."
"Fact is, we have to learn to live with it," Mr. Kazda summarizes. "Today, we already know that there won't be problems with low, 2-3-5% mixes. That there could be a problem with large, 20-30% volumes of hydrogen is not confirmed yet, but we expect the appearance of specific problems necessitating additional measures." In saying so, he cites European experience, which shows that with the concentration of hydrogen in a mix of up to 10%-20% the majority of networks can operate in a normal mode. A greater concentration needs additional safety measures.
The bulk of expenses goes to the research part
According to an estimate by RGC, the cost of the experiment up to the first half of 2022 is almost 1 million euros. "The budget for these three years for more than 100 experiments is almost 30 million hryvnias, or 300 thousand hryvnias for one experiment," Mr. Kazda says. "The bulk of funds is spent on scientific research, another portion on the purchase of hydrogen, and the remaining part on technical work on testing grounds."
Under this project, the company works with Ukrainian institutes and their representatives, including Ivano-Frankivsk National Technical University of Oil and Gas, Gas Institute of the National Academy of Sciences of Ukraine (NASU), NASU Electric Welding Institute, NASU Institute of Physics and Mechanics in Lviv, Lviv Polytechnic Institute and other. Naftogazbudinformatyka LLC coordinates the research part. At least 80% of the budget is spent on scientific research.
As for the cost of further phases, the company declined to tell even an estimate, because after transition to "live networks" they will have to bring the site into conformity with hydrogen requirements, and the costs will depend on the number of end consumers, pipes and so on.
What future is awaiting gas distribution networks?
In the opinion of the head of this project, the transition to pure hydrogen is not a fiction but a quite attainable goal. "We started with 100% hydrogen, and will be lowering its level to find out where that limit of the mix on which Ukrainian gas distribution networks can operate is," he said. "If they in Europe say that their gas distribution networks can operate on 10-20% without changes, we ask ourselves a question on what levels of concentration Ukrainian gas distribution networks can operate."
"We began testing the infrastructure on the mix of 50% hydrogen and 50% natural gas in order to compare pure hydrogen with a mix with natural gas and understand whether hydrogen will have a major impact on the behavior of the pipe," Mr. Kazda said. "In terms of metrology, the experiments are already in the preparatory phase and will be launched in field laboratories by the end of this year. Concrete results are not available yet."
"Our goal is to develop a recommendation on the strategy of transition from the existing gas distribution network to a network ready to transmit synthetic gases," he summarized. According to Mr. Kazda, a large set of experiments will be needed for that purpose. Most of them are intended to be completed by mid-2022, and they include more than 100 tests on different levels of hydrogen with simulation of various scenarios. Besides the number of technical points, the chemical composition of gas must be ascertained.
"One of the fundamental points is that in the future, different types of gas will be mixed in a gas distribution network, and the operator of this network will be ultimately responsible for delivering a safe mix to the end consumer and for correctly calculating the energy component of the transmitted mix, because the metering will be done in energy units, not in cubic meters," Mr. Kazda said. "An oblgaz company must have an idea of what is being fed into every particular building."
In his opinion, Ukraine is unique in that it has a large amount of agricultural and other waste which is not combusted but simply dumped. Plus alternative electricity sources, whose excessive energy can be utilized to produce hydrogen. Given certain support, this area can be developed very fast.
"There are two ways: Ukraine either moves in this direction to be ready for stricter caps on methane emissions, or does nothing and waits for penalties, lowered economic score of the country and the need to act urgently," Mr. Kazda said.
At the same time, DiXi Group analyst Daryna Kulaha believes that development of hydrogen power in Ukraine does not necessarily means a step toward climate neutrality. "Even though the use of hydrogen power per se does not result in greenhouse gas emissions, it must be produced first," she said. "The production process can be powered by electricity produced from fossil fuel, renewable energy and other low-carbon sources, for example, nuclear power. Consequently, hydrogen can be "grey", "green" or "blue"." In the analyst's opinion, the EU will not be interested in importing "dirty" hydrogen, and therefore, Ukraine needs to develop the renewable energy sector. The production of "green" hydrogen could solve certain problems faced by the renewable energy sector, such as the lack of maneuvering capacities and energy accumulators. "For the time being, Ukraine proposes to engage nuclear power generating capacities to produce hydrogen, which can be an option as a transitional period, because nuclear power is low-carbon," the expert said.
Considering that the system of gas distribution networks is worn by approximately 80%, RGC specialists point out the expediency of upgrading it, considering that these networks could be used in the future to transmit hydrogen mixes. A number of ongoing studies must eventually clarify the proportion in which hydrogen can be used in Ukrainian gas distribution networks and how to rebuild the network to make its operation safe.