Russia, the number one "gasoline pump"
Will Russia remain Ukraine's chief energy supplier for a while?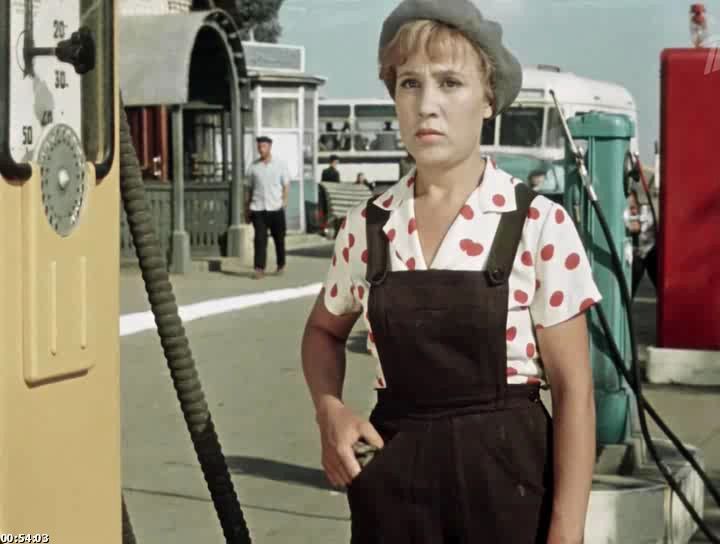 Beginning from 2014, relations between Ukraine and the Russian Federation have not been exactly favorable for mutual trade. Ukraine imposed first sanctions on Russia back in March 2014, tightening them many times since then and expanding the list of persons subjected to sanctions.
The first time Russia announced reciprocal sanctions on Ukraine was in October 2018, but it wasn't the end of it, either.
But even despite the imposition of mutual sanctions and restrictions, the bilateral trade, although shrinking, did not stop.
"In these regional conditions, we cannot physically close ourselves off with a wall to Russian goods. I think that we have already reached the maximum level of trade embargo with Russia. This is a fact I live with: trade will continue anyway," Ukraine's trade representative Taras Kachka said in an interview in late 2019.
A look at the figures reveals that in 2013, before occupation of Crimea and the Donbas, the volume of Ukraine's exports to Russia was US 15.1 billion and imports to Ukraine amounted to US 23.2 billion, while in 2020 the volume of trade declined to a historical minimum. Last year, exports of goods to Russia amounted to US 2.7 billion and imports from Russia to US 4.54 billion (or 8% of the total import volume). Nevertheless, Russia remains the third-largest trade partner of Ukraine in terms of goods turnover (behind China and Poland). But if we separately consider the fuel and energy complex, Russia remains the chief exporter of energy commodities to Ukraine until present.
Dependence on energy imports: in the language of numbers
Ukraine's foreign economic operations with the Russian Federation, particularly energy trade, are still characterized by high indicators. An analysis of data by the State Customs Service reveals that almost a third of all energy import costs are related to imports from Russia.
In 2020, Ukraine imported from Russia energy commodities of UKT ZED product group "27", which includes coal, crude oil and petroleum products, gas and electricity, worth the total of US 2.573 billion. It actually amounts to 32.6% of the total volume of imports in this product group.
In addition, in 2020 Ukraine imported from Russia US 212 million worth of TVEL-produced nuclear fuel under UKT ZED product group "84" (which includes unirradiated fuel elements), or 62% of the total import of fuel assemblies. The rest of nuclear fuel for Ukrainian nuclear power plants was delivered from the United States by Westinghouse.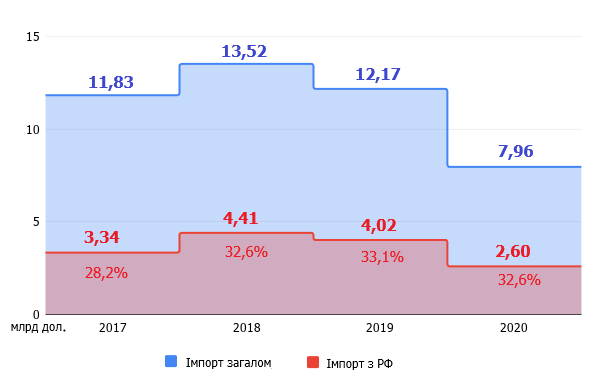 billion USD; Total imports; Imports from Russia
Dynamic of total energy import costs (product group "27"), billion USD. Source: Energy Map

The bulk of energy commodities bought in Russia in 2020 included crude oil and petroleum products (47.3% of import) worth the total of US 1.23 billion, coal (40.2%) worth the total of US 1.04 billion, and oil gas (10.4%) worth the total of US 270.94 million.
The rest of commodity procurements, particularly electricity, wasn't decisive for the total import volume, amounting to 2.1% on aggregate.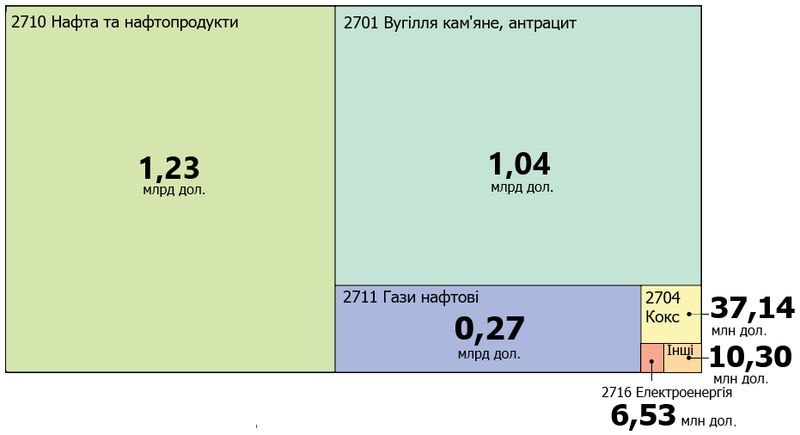 2710 Crude oil and petroleum products 1.23 bln USD; 2701 Black coal, anthracite 1.04 bln USD; 2711 Oil gases 0.27 bln USD; 2704 Coke; 2716 Electricity 6.53 mln USD; Other
Structure of costs of energy imports (product group "27") from Russia in 2020. Source: Energy Map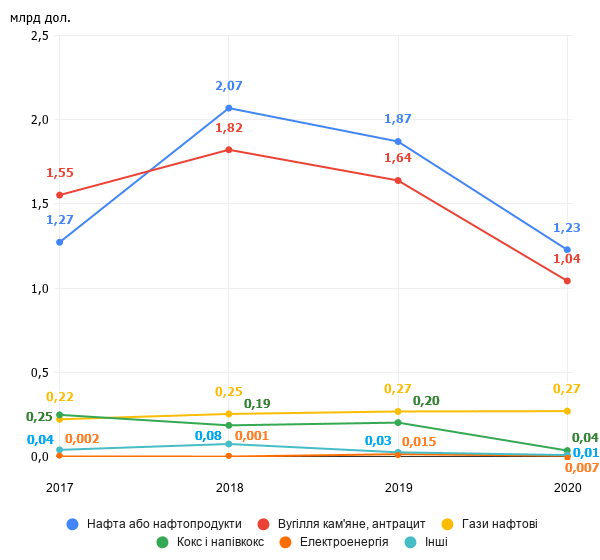 bln USD; Crude oil or petroleum products; Black coal, anthracite; Oil gases;
Coke and semi-coke; Electricity; Other
Dynamic of costs of energy imports (product group "27") from Russia, billion USD. Source: Energy Map
In addition, the situation with electricity imports to Ukraine had another distinctive feature.
Comparing to the total indicators, Ukraine's electricity imports in 2020 amounted to the total of US 131.6 million. The share of electricity imported from Russia in the total structure of imports was a mere 5%. The leading suppliers of electricity to Ukraine were Slovakia and Hungary, which were responsible for 92% of import on aggregate.
At the same time, Ukraine exported twice as much electricity, worth US 280.8 million, and it went in the European direction.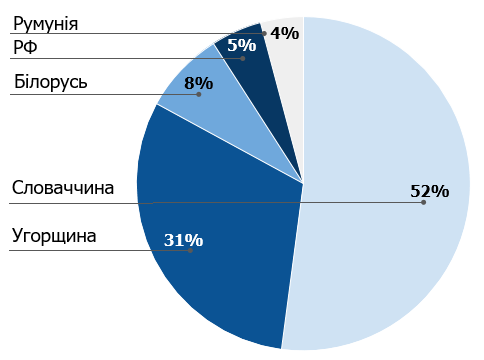 Romania, Russia, Belarus, Slovakia, Hungary
Structure of Ukraine's electricity imports in monetary terms in 2020. Source: Energy Map
There were attempts to discontinue procurements of Russian electricity as well. Between April 2020 and 1 January 2021, the NEURC Resolution 766 of 08.04.2020 canceled the results of auctions selling access to the transmission capacity of interconnectors with Russia and Belarus in 2020.
However, the interruption of electricity imports from Russia did not last long. Since the authority vested in the NEURC was temporary, provided by the law amending certain legislative acts of Ukraine to prevent the outbreak and spread of the coronavirus disease (COVID-19), the energy regulator's resolution expired at the beginning of 2021 and the imports resumed.
An analysis of data by the State Customs Service of Ukraine reveals that before the break, procurements of electricity from Russia took place in 4Q 2019 (for US 15.46 million) and in 1Q 2020 (for US 6.53 million). The imports resumed in February 2021, when during several weeks Ukraine bought US 0.47 million worth of electricity.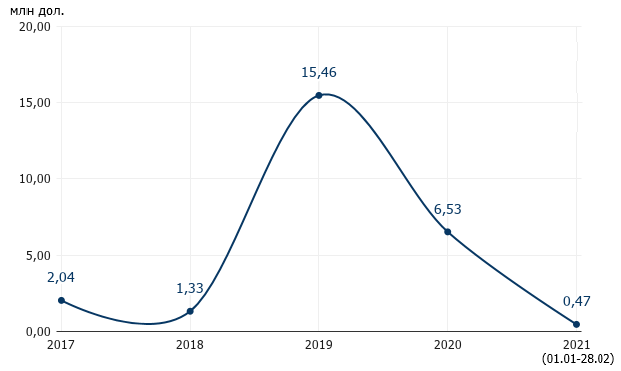 Dynamic of costs of electricity imports from Russia, million USD. Source: Energy Map
Energy imports: in the language of official documents
The initiatives amending the regulatory framework, like the NEURC Resolution 766 that was in effect for less than a year, take place all the time, and not just at bylaw level.
In April 2017, for example, the Verkhovna Rada of Ukraine passed the Electricity Market Law initiated by the Cabinet of Ministers of Ukraine. This law envisaged electricity imports from the Russian Federation and the Republic of Belarus to the day-ahead and the balancing markets.
Four years later, on 5 March 2021, a draft law on enhancement of Ukraine's energy independence, authored by the Chairman of the Verkhovna Rada Energy Committee, Andrii Gerus, and a large group of MPs, was registered in the Verkhovna Rada. This draft law proposes to reduce dependence on commodity deliveries from Russia, in particular, by introducing special import duties on diesel fuel, liquefied gas, gasoline, and coals of various grades. It also proposes to empower the NEURC to cap or ban electricity imports from the aggressor state.
In mid-March 2021, President Volodymyr Zelensky tasked Prime Minister Denys Shmyhal with limiting electricity imports from Russia and Belarus.
Another instance: in September 2019, when Ukraine faced the shortage of coal in stock at certain thermal power and cogeneration plants, the Verkhovna Rada permitted electricity imports from Russia and Belarus under bilateral contracts.
However, in December of the same year the ban on electricity imports from the aggressor state under bilateral contracts was imposed again.
One can also recall how in 2020 the Cabinet of Ministers, when introducing a special duty on certain goods originating from the Russian Federation, imposed a duty on the imports of G-grade coal but failed to apply the same charge to anthracite, coke or other grades of coal.
Striving for energy independence: in the language of actions
But unlike in legislation, the vector of changes in the energy policy of Ukraine remains consistent.
In particular, it concerns diversification of nuclear fuel deliveries with the gradual reduction of imports from Russia. The almost 20-year partnership between Ukraine and the United States, aimed to expand nuclear fuel delivery channels, has already brought tangible results. As of March 2021, reactors 2 and 3 at Yuzhnoukrainsk NPP and reactor 5 at Zaporizhia NPP, run by Energoatom NNEGC, fully operate on nuclear fuel produced by international engineering company Westinghouse. In addition, beginning from 2021 Energoatom is going to launch the experimental use of TVZ-WR fuel assemblies at reactor 3 of Rivne NPP.
Also, the complete discontinuation of electricity imports from Russia and Belarus is expected to take place in 2023 – it will become a reality after Ukraine disconnects itself from the integrated power system with these countries.
"We need to urgently disconnect ourselves from the integrated power system with Belarus and Russia, and integrate into the European system. That will be one of my most important objectives – to make us a part of Europe, of a normal market not abused by monopolists and offering a normal, transparent price," Acting Energy Minister Yuri Vitrenko recently said.
In early 2021, the transmission system operator, Ukrenergo NPC, reported on the fulfilment of all objectives slated for 2020 and necessary for integration of the Ukrainian power system into ENTSO-E. As we know, integration of Ukraine's IPS into ENTSO-E is not only a key strategic goal of Ukrenergo but also a component of the Ukraine-EU Association Agreement. The integration of our power systems is fully supported by the European Union, as stated in a resolution of the European Parliament of 11 February 2021.
So now, certification of Ukrenergo as the independent transmission system operator remains one of the key objectives in achieving this goal, for it would formally allow Ukrenergo to become a full participant of the European power network. To that end, on 19 February 2021 the Verkhovna Rada of Ukraine has already adopted as the basis a draft law allowing to certify Ukrenergo NPC as an ISO (Independent System Operator). After the final version of this draft law is adopted as expected, documents required for certification will be submitted to the NEURC.
The situation in the petroleum products market looks more difficult. Despite all efforts, only two large fuel producing enterprises (Kremenchuk and Shebelynka Oil Refineries) remain operational in Ukraine for the time being, but their production capacity is insufficient to meet domestic demand. The bulk of imported diesel fuel, gasoline and liquefied gas still comes from Belarus and Russia, but the recent events – the National Security and Defense Council's sanctions on the owners of petroleum product pipelines and the Security Service of Ukraine's investigation concerning Glusco gasoline filling station chain – may indicate the beginning of the "turnaround" in this area as well. Especially since the petroleum products market is quite diversified.
So, Ukraine is steadily moving toward its goal, creating conditions to enhance its energy independence from the aggressor state. Even though the steps it takes are not always large, they are, nevertheless, the steps forward.
Lia Ilchenko, Oksana Zuieva,
Ukrainian Energy ua-energy.org