Ukraine is delaying industrial pollution reforms. What it means for Europe
Kyiv wants to postpone the implementation of European directives on the environment for several years after the war ends. This threatens to leave it outside the new EU energy security model.
Graphics: Olha Khvorost
A little over a year ago, Ukraine obtained candidate status for EU membership. Last summer, along with a strong signal from the EU, the country also took on more commitments. Specifically, in the field of climate legislation alone, the number of regulatory acts to be implemented has increased in ten times.
Six months after receiving the candidate status, the country got its first assessment of compliance with the membership conditions. It turned out that the implementation of European environmental legislation was still in its early stages.
The government, Parliament, some part of the industry, and civil society sector continue to work during the war. However, the pace of implementing European 'green' directives doesn't inspire much optimism. Moreover, a significant number of acts passed by the Verkhovna Rada and the Cabinet of Ministers foresee postponing their implementation for several years after the end of martial law.
Such an approach hampers Kyiv's adoption of European standards, in particular in the field of industrial pollution, which could affect the timing for EU accession of Ukraine, as well as the ability of local exporters to increase the goods and energy resources supply to European markets. For Europe, this would mean to restrict the use of Ukrainian products in general and, specifically, Ukrainian energy resources in building a new model of energy security.
Reality vs. expectations
Since the summer of 2022, when Ukraine became a candidate for EU membership, Ukrainian officials have been radiating optimism. For example, the Minister of Environmental Protection and Natural Resources of Ukraine Ruslan Strilets, in August 2022, assessed the level of fulfillment of European integration commitments in the environmental sphere as very high – 63%.
Somewhat contrasting with the enthusiasm expressed by Mr. Strilets, he recalled that in the Verkhovna Rada (Ukraine's parliament), there are 19 Eurointegration environmental bills under consideration, four of which are to be adopted as a priority to fulfill the Association Agreement with the EU. In particular, these include:
• No. 4461 on the territories of the Emerald Network (under consideration since 2020, has not yet passed the first reading);
• No. 7327 on the state environmental monitoring system (adopted, enters into force six months after the lifting of martial law in Ukraine);
• No. 4187 on support of the development of domestic subsoil use industries (adopted, came into effect on March 28, 2023);
• No. 6004-2 on ensuring the constitutional rights of citizens to a safe environment for life and health (alternative draft law 6004-D was adopted in the first reading).
However, when the European Commission released an analytical report in early February 2023 regarding Ukraine's compliance with the conditions for EU membership, specifically its ability to implement the acquis communautaire (EU treaties, secondary European legislation, international agreements, etc.), the score was low. The country's average score for all indicators was only 2.16 on a five-point scale. In the field of environment and climate change, Ukraine overall received a score of one. The EU considers that the compliance of Ukrainian environmental legislation with European legislation is at a "basic level," and the country itself is seen as being "at the beginning of the way" in this area. This was a bit of a shock to the Ukrainian community.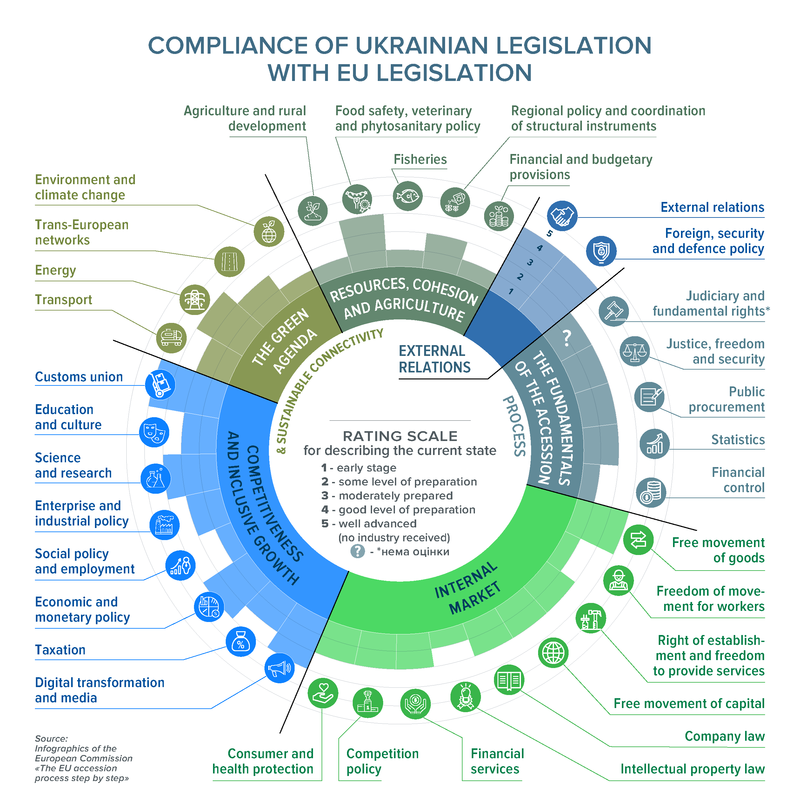 Why the score is "one"
Upon reflection, experts agreed that there's nothing surprising about the low score in 'environmental compliance.'
First, Ukraine previously evaluated its level of compliance with requirements of the Association Agreement, while the European Commission was assessing the level of compliance of all Ukrainian legislation with European standards.
"When they began evaluating us as a potential candidate, they began to compare the compliance of Ukrainian environmental legislation with European standards. And our score immediately dropped down, because there are a lot of EU acts that we didn't even think about implementing. And while there were more than 20 acts under the Association Agreement that we implemented with varying degrees of success, now there are more than 200," explains Olha Polunina, executive director of the Center for Environmental Initiatives "Ecoaction".
The Association Agreement was being prepared since 2011 and was signed in 2015. "Since then, the EU has adopted many more environmental regulations, so when comparing what is in place in Ukraine with what is currently in place in the EU, there is a really big gap," notices Iryna Stavchuk, former Deputy Minister of Environmental Protection and Natural Resources of Ukraine.
Secondly, even when implementing European directives, Ukraine often did that incompletely. "EU regulations are often not fully implemented, and also contain additional provisions that distort the original essence of such regulation," says Olga Boyko, coordinator of the Industrial Ecology and Sustainable Development Committee of the European Business Association (EBA). She is primarily concerned about provisions that complicate business conditions and increase state regulation.
Thirdly, Ukraine is indeed progressing very slowly towards the implementation of European environmental standards. As Iryna Stavchuk explains, there are several reasons for this:
1) Insufficient number of experts in government agencies. To prepare acts and draft laws, which count in hundreds, a significant number of experts and lawyers are needed. However, the staff of the Ministry of Ecology is constantly shrinking, which significantly slows down the work. Documents are prepared with less quality, and there is almost no analytics on the effectiveness of their work.
2) Lack of additional resources at the national and local levels. The implementation of acts often involves additional procedures for evaluation, analysis, and consultations. But the state is not ready to allocate additional administrative or financial resources for their implementation. If a draft law or resolution requires more staff members for implementation, it has very little chance of getting approval from the Ministry of Finance, says Iryna Stavchuk.
3) Inefficient and non-transparent system of financing of environmental protection measures. Funds are allocated throughout the year and on an annual basis. They are tied to political changes, making it impossible to plan funding for long-term projects. Priorities are not clearly defined. Ukraine needs to reform its state and local systems of financing environmental protection measures. Furthermore, more systematic and transparent approaches to the use of budget money are crucial in the context of the fight against corruption.
4) Business opposes changes, and legislative proposals are often pending for years in the Verkhovna Rada. Implementation of European integration acts often involves more complicated and additional procedures for evaluation, analysis, consultations, registries, etc. Businesses consider these additional regulations to be unprofitable for them. Furthermore, it implies significant costs for modernization.
For example, according to the assessment of the analytical center DiXi Group, the total CAPEX (capital expenditures) in the Ukrainian energy sector to implement the requirements of the National Plan for reducing emissions from large combustion plants could reach €4.13 billion. If the best available techniques and management methods (BAT) in the mining and metallurgical sector were implemented as provided for in Directive 2010/75/EU, according to the Ukrainian information and analytical center GMK Center, additional investments would have amounted to $6.6 billion before Russia's full-scale military invasion of Ukraine. Other analytical centers provide even more pessimistic estimates, ranging from €7.7 billion to €8.3 billion.
Where will the money come from?
In EU countries, the transition to new cleaner technologies had been more gradual and partially was financed through EU funds and other forms of government support. The EU will also provide support for Ukraine, for example, through the Ukraine Facility instrument. As explained by the European Commission, "the Facility includes a €8.9 billion guarantee capacity as well as € 1.76 billion of grant resources (EU blending) to de-risk and support investments in key strategic sectors, as will be identified in the Ukraine Plan. Thanks to the de-risking provided by the EU guarantee, private investors will be more encouraged to invest in Ukraine despite the challenging geopolitical context".
However, it's important not to rely solely on EU support.
"The EU guarantee and blending resources could be used to promote the financing of energy production from renewable sources, increasing the storage capacity of the country as well as improve the distribution system," the European Commission's press service explained in response to a request from the authors of this study.
"When determining financing mechanisms for the eco-modernization measures, it is necessary to take into account the economic conditions in Ukraine, because state funding means that end-users of electricity will pay for the environmental modernization of the energy sector. However, even before the war, Ukraine's GDP per capita at purchasing power parity terms was several times lower than that of the EU countries. Also, only 15% of Ukrainians were willing to pay extra for more environmentally friendly energy," states DiXi Group's research on the impact of implementation of Directive 2010/75/EU on the energy sector of Ukraine.
This means that state funding for the modernization of the energy sector will require an increase in electricity tariffs for end consumers. The nearly doubling of the tariff for households up to UAH 2.68/kWh (€0.067/kWh), starting from June 1, has sparked a mixed reaction in a country where the average salary in July was UAH 16,570 (€411). The money that energy companies receive from this tariff hike should be used to rebuild the energy infrastructure that was destroyed by Russian missile attacks. Whether this, infrastructure will be restored with a more "green" approach remains a big question, as it simply needs to be repaired quickly.
"Ukraine, unlike EU countries that followed a gradual path to stricter environmental regulations, must make a leap directly to the standards of Directive 2010/75/EU, bypassing the requirements of predecessor directives, all while doing so within tight deadlines. For a country at war and facing challenging economic conditions, this is an highly complex and ambitious task," notes Olha Polunina.
The Ukrainian business sector finds itself in a very challenging situation. On one hand, the government is imposing stricter deadlines and ambitious climate goals. On the other hand, the enterprises have been destroyed by the war. The state expects them to rebuild on a "better than before" principle, making their operations more "green," "clean," and eco-friendly. However, obtaining financing for these efforts is difficult, and investing in large projects while the war continues is quite risky.
That's why businesses, while declaring their desire for eco-modernization, are doing their best to delay the introduction of laws that propose stricter environmental standards.
Kyiv is in a hurry
In addition to business and environmental NGOs, there is another, most influential player in the implementation of EU directives in Ukrainian legislation: the Ukrainian government. And it is in a hurry. The implementation of environmental directives is required by the Association Agreement with the EU, the Energy Community Treaty, and the declared political vectors of the country's development. The current government is eager to bring Ukraine into the EU as soon as possible.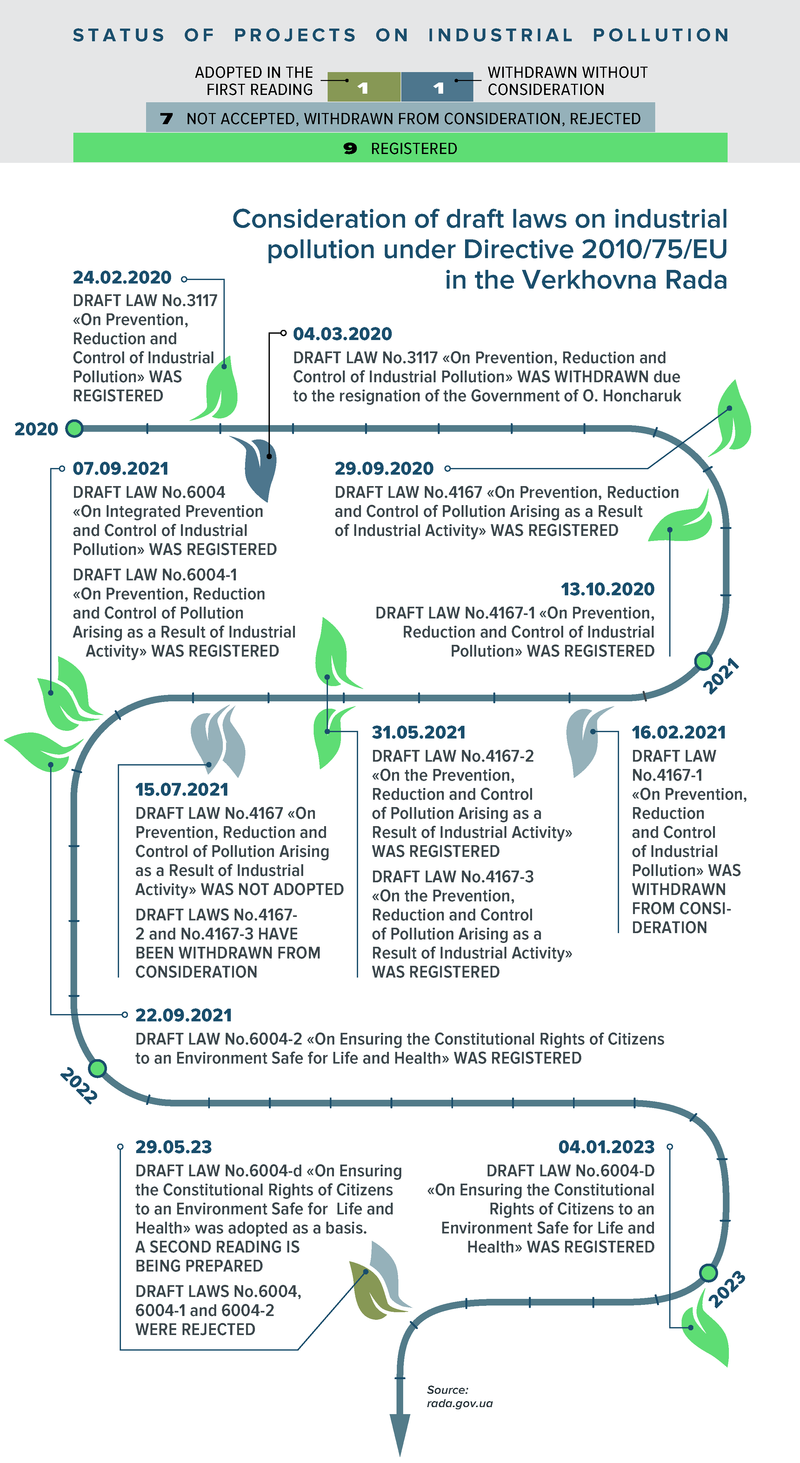 On May 29, 2023, to the sound of air raid sirens, the Verkhovna Rada finally passed in the first reading the draft law 6004-D "On Ensuring the Constitutional Rights of Citizens to an Environment Safe for Life and Health." The draft law, which implements the requirements of Directive 2010/75/EU, was voted in favor by 301 MPs.
In Ukraine, 226 votes are usually required to pass laws (a simple majority out of 450 MPs). Efforts to implement Directive 2010/75/EU had been ongoing since 2019, and such a large number of votes had not been garnered previously. It is worth noting that the adoption of corresponding legislation based on the previous "generation" of EU directives was supposed to have taken place as early as 2016.
If we compare the results of the voting for draft law No. 4167 "On Prevention, Reduction and Control of Industrial Pollution" (the predecessor of draft law No. 6004-D) with the results of the voting for No. 6004-D, it can be observed that many of those MPs who were against or abstained from voting, in May 2023 cast their votes for the document. Why were they against it initially, and why did their opinion change?
Best Available Technologies as a stumbling block
The "Best Available Technologies" (BAT) have indeed been a stumbling block. These are the most effective technologies from the point of view of environmental protection, developed taking into account the specifics of industrial sectors and the economic feasibility of their implementation. Based on the implementation of BAT, business entities will receive standards for the maximum permissible amounts of industrial pollution.
The key questions for Ukrainian business are: how strict should BAT be, when will they come into effect, and how much money will be needed to implement them? And also, who should bear the costs of implementing these technologies?
Some, such as non-partisan MP Musa Magomedov, who before being elected to the parliament was the general director of Avdiivka Coke Plant (part of Metinvest Group), said that if the European BAT was blindly copied, Ukrainian enterprises would be obliged to purchase expensive equipment from a foreign manufacturer, while domestic products could be used.
"BAT is something that our economy, our manufacturers, our machineries, and our plants can reach. BAT should be developed taking into account what our plants are capable of producing. Otherwise, we will bury them," the MP explained.
Almost the same opinion was expressed by Dmytro Kysylevsky, deputy chairman of the Verkhovna Rada Committee on Economic Development, who, prior to becoming an MP, worked as director of corporate relations at the Interpipe metallurgical company. He said that the draft law should be finalized so that Ukrainian manufacturers could supply their equipment for the modernization of Ukrainian enterprises. In his opinion, the state should provide financial support to domestic industrial enterprises, as the governments of European countries have done in the past.
"The reform of industrial pollution was not supported because it offered solutions that were very difficult for business," explained Olha Polunina. "The problem is that Ukrainian business wanted to switch to the requirements of the Directive on its own terms, which would be much more convenient for it".
She noted that all the big businesses operating in Ukraine also operate in the EU. But there, they comply with all environmental standards, because compliance with directives is not up for discussion in the EU. "In Ukraine, business has the opportunity to influence legislation, and write what suits them. That's why they simply use this resource," And although the draft law No. 6004-d has now been passed only in the first reading, it still has to pass the second reading and be adopted as a whole. And after that, it will take a long time before it becomes fully operational.
"According to my estimates, it is realistic to adopt the draft law No. 6004-d as a whole by the end of the year. But its implementation (development of bylaws and their implementation) may take 15-20 years, depending on how quickly the war ends and what the post-war reconstruction process will be like in terms of access to international financing for businesses," Boyko says.
Environmental NGOs believe that the industrial lobby's goal is to simplify or postpone this draft law as much as possible. On the other hand, the sector understands that a destroyed plant can be rebuilt in a modernized form rather than in its old form. In this case, BAT compliance will no longer be such a significant problem.
The government shared the concerns of the public, but also tried to reach an agreement with the business. "It is important for Ukraine that the adopted draft law be truly effective, not just a law for the sake of formal implementation of the European directive," Minister Ruslan Strilets said at a meeting of the Verkhovna Rada Committee on Environmental Policy and Nature Management in July 2022.
In May 2023, the majority of MPs, including Musa Magomedov and Dmytro Kysylevsky, supported draft law 6004-D. It states that BAT conclusions "are developed and approved on the basis of the European Union legislation." There is no hint that Ukraine will have "its own" BATs. However, there is a nuance: the BAT conclusions will come into force no earlier than January 1, 2024, and will start to operate "not earlier than four years after the date of termination or cancellation of martial law". Another 7 years are provided for everyone to modernize or close down. So, the implementation of BAT has been postponed.
The calls of big business were heard. "The EBA welcomes the development of the draft law and the consideration of previous proposals and comments, in particular, in terms of establishing a transition period for the energy sector in accordance with the National Emission Reduction Plan for Large Combustion Plants, and implementing the BAT conclusions no earlier than four years after the end of martial law," says Olga Boyko.
It should be noted that the EBA is one of the largest associations of foreign, European and domestic businesses in Ukraine. Previously, the EBA has repeatedly criticized draft laws related to industrial pollution, citing concerns that they did not take into account the interests of businesses.
The draft law No. 6004-D has now been passed only in the first reading, it still has to pass the second reading and be adopted as a whole. And after that, it will take a long time before it becomes fully operational.
"According to my estimates, it is realistic to adopt the draft law No. 6004-D as a whole by the end of the year. But its implementation (development of by-laws and their enactment) may take 15-20 years, depending on how quickly the war ends and what the post-war reconstruction process will be like in terms of access to international financing for businesses," believes Boyko.
Does Ukraine have time?
15-20 years is quite a long. "Businesses will have time to prepare for the innovations," explained Ruslan Strilets. However, experts point out that if Ukraine had adopted a law on the application of BAT back in 2019, all enterprises that would be restored after the shelling would now be restored in compliance with these standards.
"We wouldn't have had any questions on how the recovery would take place. But now we have these questions. We do not understand what exactly is being restored and how. There are so-called emergency needs, when facilities are restored quickly due to urgent needs. And there is strategic restoration, for example, not rebuilding a specific substation, but rebuilding the entire power system to make it more resilient and sustainable. But we don't know how this is to be done. And there are fears that environmental standards will remain on paper," emphasizes Olha Polunina.
In her opinion, postponing the implementation of "green" regulations, as desired by businesses, can play a cruel joke on Ukraine. These regulations are especially important for the energy sector.
"We shouldn't always count on concessions because we are currently at war. In some matters, we might get some concessions, but it's also wrong to think that we will be forgiven for dirty plants because of the war. If we implement some standards in 15 years after the war, the European Commission will start evaluating them no sooner than that. How can we talk about joining the EU in two years?" explains Olga Polunina.
The European Commission confirms that it is not willing to turn a blind eye to non-compliance with environmental standards, as the European Green Deal and building of a climate-neutral, "green," fair, and socially inclusive Europe are among the strategic priorities of the EU for 2019-2024.
"Directive 2010/75/EU on industrial emissions (integrated pollution prevention and control, IPPC) is indeed an important part of EU legislation (acquis) to achieve a high level of protection for the environment and prevent pollution from industrial activities... As for EU acquis in general, any candidate country must align with this directive and further implement it AHEAD of accession to the EU", – was explained by the European Commission's press service in response to our inquiry.
The European Commission emphasized that monitoring compliance with EU legislation during the enlargement negotiations covers not only the harmonization of legislation, but in fact also includes checking whether the requirements of any EU act are properly implemented and applied.
The most important thing to consider is that while Ukraine delays implementing environmental directives, EU legislation continues to evolve. Currently, this also applies to Directive 2010/75/EU on industrial emissions. In 2022, the European Commission made proposals for its revision. These proposals aim to improve the Directive by increasing the focus on energy, water and material efficiency and reuse, in addition to promoting the use of safer, less toxic or non-toxic chemicals in industrial processes. The revision of the IED provides a framework for the operation of EU industrial installations that is in line with the European Green Deal, and the zero pollution action plan.
"Should the new legislation come into force before the closing of the negotiations, Ukraine should adopt its legislation and implementation capacities accordingly', – emphasized at the European Commission. Thus, over 15-20 years, the list of the initial 200 legislative acts that Ukraine currently needs to implement has the chance to significantly expand.
Will Ukraine become a "green hub"?
Ukraine's slowness in implementing environmental legislation raises questions about its ability to become a "European green energy hub," a goal the Ukrainian government strongly desires. For example, Ukrainian Energy minister Herman Galushchenko, during the presentation of the Energy Strategy until 2050 in London on June 21, 2023, said that a key objective is to transform Ukraine into Europe's energy hub, which will help the continent finally get rid of its dependence on Russian fossil fuels thanks to clean energy produced in Ukraine.
"As Ukraine is to become a member of the EU, our energy sector must become an integral part of the EU's energy markets and security objectives. The EU can rely on Ukraine: we are ready to offer our European partners green and clean electricity, Europe's largest underground gas storage facilities, hydrogen production potential and energy equipment manufacturing not only for Ukraine's recovery, but also for Europe's energy transition as a whole," the minister said.
He highlighted that Ukraine will help facilitate a fundamental transformation of Europe's energy sector and achieve an energy transition, including through the development of hydrogen and biotechnologies, the production of "green" steel, and "green" fertilizers.
First Vice Prime Minister and Minister of Economy of Ukraine, Yulia Svyrydenko, aims to achieve over 100 GW of new "green" generation capacity and produce over 40 million tons of "green" steel. The production of which, by the way, also requires electricity of confirmed green origin.
The European Commission notes that Ukraine certainly has the potential to turn from a fossil energy importer to a green energy exporter to the EU. This applies not only to renewable electricity, but also to other energy carriers produced using renewable electricity, such as hydrogen and ammonia.
Last December, during his speech at the Ukrainian Energy Security Dialogue meeting, Tahir Kapetanovic, Chairman of the System Operations Committee of the European Network of Transmission System Operators for Electricity (ENTSO-E), emphasized the need to continue harmonizing Ukrainian legislation with European legislation in order to become more involved in European energy markets.
"For Europe, one thing is clear: the European future is possible only through energy independence, including the use of renewable sources and other sources without deep dependence on fossil fuels," he said.
The ENTSO-E representative urged Ukrainians to pay more attention to the development of carbon-free generation in the post-war recovery.
"Then it will be possible to exchange more energy, including from renewable sources. And this will be our joint evolution towards an energy-independent future," highlighted Tahir Kapetanovic.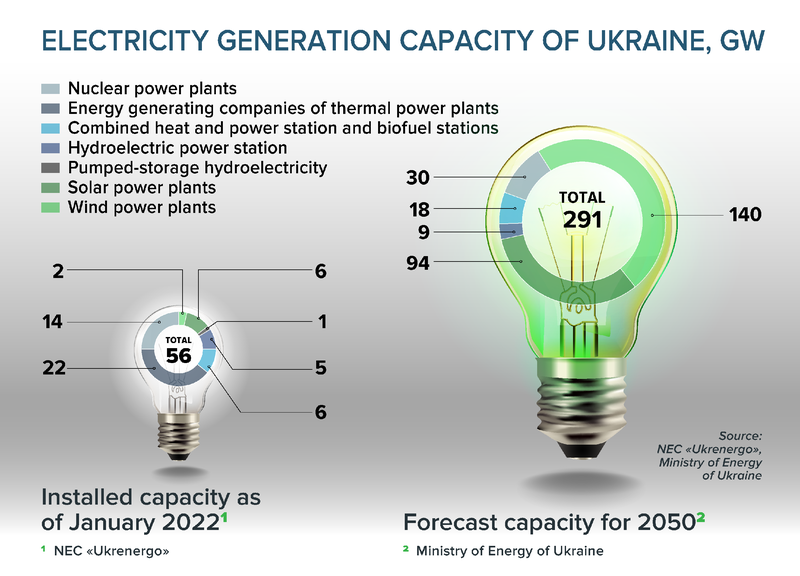 The current capacity of Ukraine's integrated power system for exporting electricity to the EU countries is limited by several factors. Technically, the maximum limits are 2,000 MW for both export and import. At the same time, ENTSO-E confirms the capacity of cross-border interconnectors for electricity imports to Ukraine at 1,200 MW, and 400 MW for exporting.
Over the past year, the Ukrainian Ministry of Energy has repeatedly stated its intention to increase export capacity to 2 GW initially (which corresponds to current technical capabilities), then to 6 GW in 2032, and to 10 GW by 2050.
"Ukraine's electricity grid has been synchronised with the EU's since March 2022, and the available capacity for cross-border trade has been continuously increased since then in both directions. At the same time under the Energy Community framework the Commission, together with the Secretariat, has launched the work with Ukraine and other Contracting Parties to establish a regional carbon pricing system. A carbon pricing with the price equivalent to the EU would ensure that Ukraine avoids CBAM fees and can progress further with market integration on a level playing field basis," press service of European Commission said, answering our request.
The European Commission emphasizes that the creation of a single legislative framework will allow Ukraine to integrate into the EU's internal energy market, thus strengthening energy security in the region.
In other words, Europe needs clean energy from Ukraine. It will strengthen energy security and help the green energy transition. However, for this to work, Ukraine needs to accelerate its environmental legislative reform.
Text: Hanna Kibovska, Tetyana Vysotska, Oleksandr Berdynskykh
Graphics: Olha Khvorost
This research was developed with the support of Journalismfund Europe