Serhiy Makogon: "We need to modernize our gas transmission system"
The current volume of gas transited through Ukraine is 10 times less than the transit capacity of our gas transmission system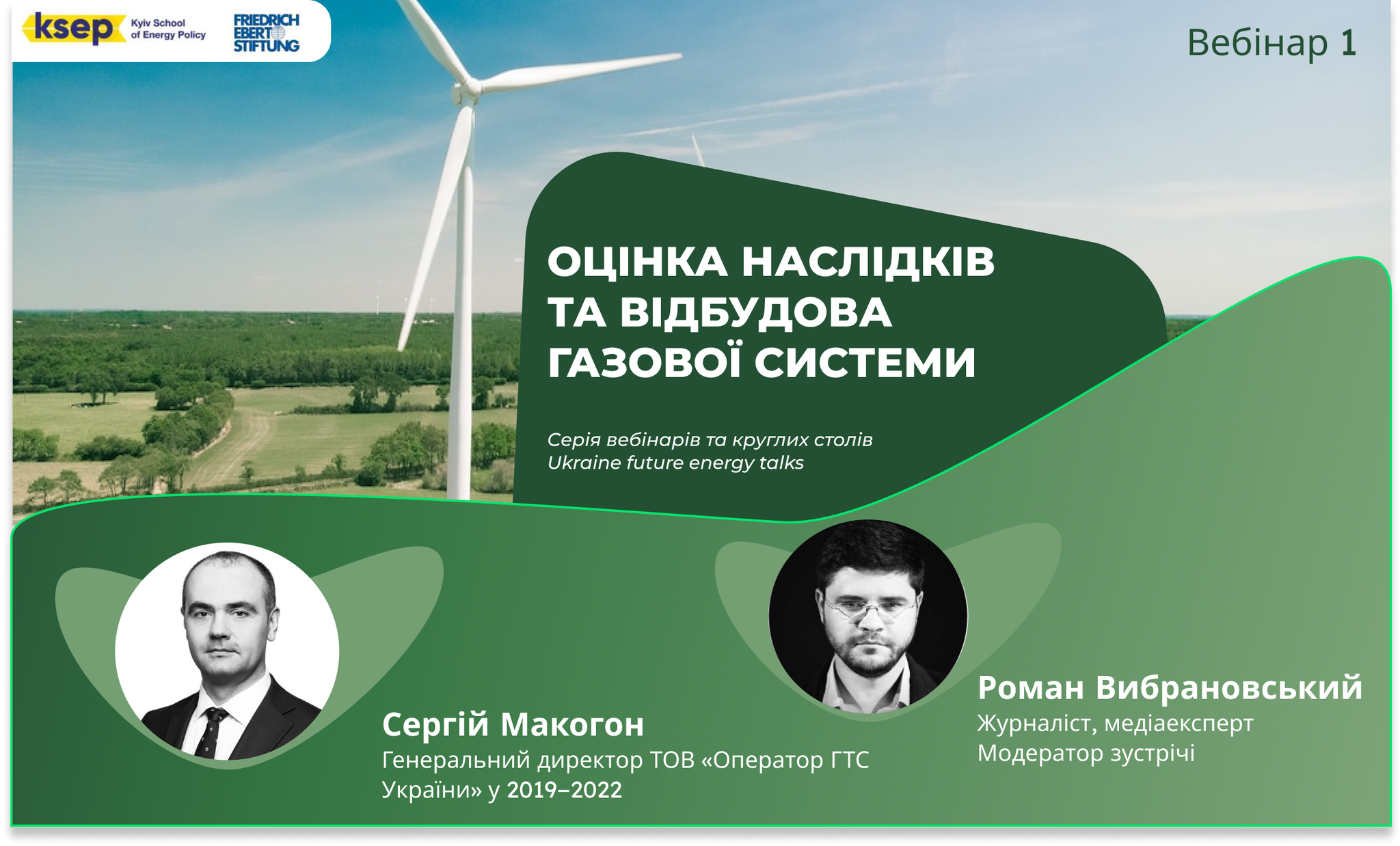 Ukrainian energy system suffered significant damage as a result of the war but managed to survive. Today, our main task is not just to restore the energy system but to modernize it, make it more stable and efficient. Gas sector is one of the priority areas that requires special attention. There has been a decrease in consumption, production, transit and import of natural gas. At the same time, our gas transportation system gives cause for optimism according to the participants of the webinar "Assessment of the consequences of the war and the prospects for reconstruction of GTS", which was held by the Kyiv School of Energy Policy with support from the Representation of the Friedrich-Ebert-Stiftung in Ukraine.
Situation with respect to GTS: old and new challenges
The speaker of the meeting Serhiy Makogon, who is the ex-CEO of LLC "Gas Transmission System Operator of Ukraine", noted that our gas transportation system wasn't damaged as badly as, for example, the power grid infrastructure thanks to the Armed Forces of Ukraine. GTS sustained significant damage in the cities that are suffering from fierce fighting and constant rocket attacks, first of all, Kharkiv, Mykolayiv, Odesa and the front-line towns in Donetsk and Luhansk oblasts. But in general, Ukrainian GTS remains functional and continues to transport gas to domestic and foreign customers.
At the same time, our GTS has been confronted with new challenges in addition to the problems it had before the war.
External challenges:
• gas transit has been reduced or brought to a complete stop;
• decrease in internal consumption;
• soaring debts due to nonpayment for gas balancing (gas withdrawals made by district heating providers and oblast gas companies);
• volume of payments for gas transit has decreased by 35%.
According to the 2023 forecast, gas production will amount to 18.2 billion m3, gas consumption will reach 17.9 billion m3 (although there was a time when our annual consumption exceeded 80-90 billion m3), transit volume will be approximately 40 million m3 per day.
"These forecast figures indicate that Ukraine will achieve self-sufficiency in natural gas in 2023," said Serhiy Makogon. "This is both good and bad news for us because we understand that our country achieved such a decline in gas consumption not so much by implementing energy efficiency reforms and encouraging the district heating companies or the population to reduce inefficient consumption as by significantly decreasing the industrial consumption. This will lead to a drop in the GDP and cause a slump in the production of other goods. On the other hand, we will no longer need to spend foreign currency on gas imports since we can meet all our needs through domestic production."
The speaker pointed out that there is a risk of premature termination of gas transit through Ukraine because Europe is opting out of buying Russian gas. The European Union has announced plans to reduce Russian gas imports to zero by 2027, but the current gas market dynamics show that this goal may be achieved much earlier.
At the same time, the revenues from gas transit account for 80% of the total income earned by the "GTS Operator of Ukraine". Therefore, it is necessary to find ways to compensate for the loss of these revenues. Otherwise, we will be forced to raise the domestic gas transportation tariff for those businesses that remain active in the country.
In the words of Serhiy Makogon, gas balancing debts resulted from the default on payment for gas withdrawals. This problem has been plaguing our country for a long time. This is about gas withdrawals made by oblast gas companies to cover operational and technical expenses (OTE) because approximately 1.4 billion m3 of gas is lost every year in the process of distribution due to the highly-branched structure of gas transportation system. The cost of this gas is included in the tariff, and so 40-50% of the total amount paid by the population for gas distribution is used for purchasing gas to cover the OTE. However, according to the current tariff rate, this gas costs 7 UAH / m3 while its market price is 15-30 UAH / m3 (without VAT). Consequently, oblast gas companies don't have enough money to pay for this gas in full. As a result, the total amount owed to "GTS Operator of Ukraine" is about 30 billion UAH, of which 16 billion is the debt of oblast gas companies and a similar amount is owed by "Naftogaz" company acting as a supplier of last resort (SLR) for oblast gas companies.
There is also a problem with gas withdrawals made by district heating companies (DHC), which are unable to pay for this gas.
Internal challenges:
• growing expenditures on GTS maintenance;
• obsolete equipment;
• current project solutions for GTS development no longer correspond to reality;
• the cost of gas for OTE included in the tariff is 7 UAH / m3 while the market gas price is 15-30 UAH UAH/m3;
• liquidity problems due to problems with debts, "Naftogaz" payments and understated tariff.
"It is necessary to replace at least 50 km of gas pipelines and repair about 200 km of them every year to maintain our GTS in proper working order," said Serhiy Makohon.
He told that the compressor stations require modernization because the newest one was built in 2000 and the majority of them date back to 1970s. "GTS Operator of Ukraine" planned to start work on modernization of 10 key compressor stations, but unfortunately, the war has disrupted these plans.
"Our GTS was designed for very significant transit volumes," the speaker reminded the audience. "The annual transportation capacity of GTS is 145 billion m3. The current volume of gas transited through Ukraine is about 15 billion m3, which is 10 times less than originally planned. Therefore, it is necessary to come up with new project solutions. We need to optimize and rebuild the system to make it work in an efficient manner. We understand: the actual marginal costs of operating the GTS are very high because we only use 10% of its capacity and the system doesn't work in the most efficient mode."
As explained by Serhiy Makogon, the understated gas tariff is less of a pressing problem for the "GTS Operator of Ukraine" than it is for oblast gas companies as was mentioned above. This is due to the fact that the "GTS Operator" purchased a few billion cubic meters of gas (at a very cheap price) back in 2020 and continues to consume this resource up to the present day (up to 1 billion m3 annually). Therefore, there is no urgent need to purchase natural gas at the market price. However, the "GTS Operator" will have to buy a certain amount of gas for technical purposes before the end of the year, but the cost of this gas is not included in the tariff.
In its turn, a decrease in gas transit volume coupled with failure to resolve the problems with debts, "Naftogaz" payments and the understated gas tariff may result in the financial insolvency of the "GTS Operator".
"In order to address the aforesaid problems, the first thing we have to do is allow the "GTS Operator" company to work for itself. After all, gas transit revenue has always presented a good opportunity to resolve all other problems. The government continues to subsidize "Naftogaz" at the expense of the "GTS Operator. However, it will be impossible to make payments to "Naftogaz' if there is no gas transit. Therefore, the problem of "Naftogaz" must be solved in one way or another", said Serhiy Makogon.
New opportunities for development of GTS and how to seize them
According to Serhiy Makogon, the Ukrainian GTS has a great opportunity to become efficient despite the above-mentioned problems. The speaker highlighted three priority areas of GTS development:
1) reconstruction of the energy system of Ukraine with a focus on renewable energy sources (RES) since we will have a need for energy storage systems and balancing power generation;
2) increase imports of Caspian gas and LNG to the EU;
3) "Green" transition of the EU economy: there is a rising demand for biomethane and hydrogen, and hence a growing need for transportation of these resources.
However, we need to introduce certain changes to start work in these areas.
Firstly, it is necessary to repurpose or optimize the assets that can no longer be used. According to the calculations made by the "GTS Operator", we could save 3-5 billion UAH annually by closing down the facilities that are not in use. Secondly, we need to modernize everything necessary for maintaining the GTS in working order. For example, the reconstruction of 10 key compressor stations will allow Ukraine to transport the hydrogen-enriched natural gas (a mixture containing up to 10-15% hydrogen). Thirdly, we need to change the operating mode of the GTS through optimization of the unified GTS/Underground gas storage (UGS)/gas distribution network (GDN) system.
We can make efficient use of the Ukrainian GTS in new areas of activity provided the following necessary measures are taken:
• repurpose the GTS assets;
• approximately 80% of our compressor stations are no longer needed. They can be used for other purposes, in particular, for the construction of balancing gas power stations;
• make use of the GTS for the construction of energy storage facilities (CAES);
• energy storage (Power-to-Gas, H-2, synthetic Methane) – using the excess electric energy for the production of hydrogen or synthetic methane and delivery thereof through gas pipelines to the customers;
• part of the gas pipeline network should be allocated to transport the CO2 (CCS);
• support the development of the biomethane industry and using the gas transmission system to transport biomethane;
• engage in hydrogen transportation business;
• create a single operator of GTS/UGS/GDN system (in order to cut administrative costs and implement a single technical policy).
At the same time, it is necessary to introduce regulatory changes to provide for the repayment of debts accumulated by "Naftogaz" and the oblast gas companies, establish an effective PSO (Public Service Obligation) regime for the supply of gas to district heating and oblast gas companies, finish implementation of EU legislation, impose a fair tariff and/or PSO regime for the supply of gas to cover the operational and technical expenses incurred by the "GTS Operator".
Q&A about methane
Serhiy Makogon's speech prompted the webinar participants to ask lots of questions primarily about potential markets for the Ukrainian GTS. Below are just a few examples of their questions and the answers given by the speaker.
– "Do you see any potential for the development of methane transportation in our country, given the latest trends, the absence of any positive steps with respect to Automobile CNG Filling Stations owned by "Naftogaz", and the closure of several private companies to make things worse?"
– "It's not just an opportunity for our country. The EU directives place Ukraine under an obligation to develop an alternative fuel vehicle fleet. The list of alternative fuel transport includes electric vehicles, hydrogen vehicles and CNG vehicles. From my point of view, "Naftogaz" made a dubious decision to close down its network of CNG Refill Stations especially given that our country is entirely dependent on diesel and gasoline imports. At the same time, Ukraine has its own methane extraction industry. And I'm sure that our people would be happy to have the opportunity to refuel their vehicles with Ukrainian methane at a price of 25 UAH/liter rather than purchase imported diesel at 58 UAH/liter. I can understand the commercial reasons behind this decision of "Naftogaz". However, there is also the Ministry of Energy and other members of the Cabinet who comprehend the consequences of such decision for Ukraine, and they should deal with this issue. It makes sense to develop the natural gas motor fuel market in our country, and we have already adopted a large number of laws for this purpose. So why aren't people buying methane-fueled vehicles? Because the refueling stations were closed down and the people can't find a place to refuel their cars. No one will convert their car to natural gas unless there is a CNG station where it can be refueled. I'm convinced that the Ministry of Energy and "Naftogaz" made a big mistake by ignoring this problem."
– "What do you think are the prospects for the development of biomethane production, specifically when it comes to biomethane distribution to gas networks (pipelines)?" Currently, there is a great deal of discussion related to technical aspects and export opportunities. How long can it take to remove the obstacles and achieve intensive development of biomethane production (without taking into account the risks associated with the ongoing war?"
– "Biomethane is a unique resource that doesn't require the introduction of "green" tariffs or anything else. All we need to do is provide our people with the opportunity to export biomethane, and they will transport it to Europe and sell it all by themselves. They don't need any help from the state government. Just give our agricultural producers the opportunity to build biomethane stations and invest money in further development of this technology – that's all. Just provide favorable conditions. I can't understand why there is a long-standing problem with creating the country of origin registry. It remains a mystery why we haven't been able to adopt technical regulations for methane production for several years. Biomethane is our future, provided that we lay the groundwork for exporting it. Furthermore, biomethane will be in high demand in Ukraine as well. Our metallurgists will be the first ones to buy it, because they will have to provide evidence proving that their metal is produced with the use of "green" energy sources. Otherwise, they will be forced to pay very high taxes when exporting their products to the EU. Therefore, the state government should allow our businesses to export biomethane rather than throw obstacles in their way. I predict that one billion m3 of biomethane will be transmitted through our pipeline system in two years' time," said Serhiy Makogon.
Public management and gas-related problems
The relations between the government, "Naftogaz" and "GTS Operator" were of great interest to webinar participants.
– "The government, acting as the owner of gas transmission system, took the GTS from "Naftogaz" and handed it over to the "GTS Operator". Therefore, the financial condition of the "GTS Operator" is being affected by the obligation to make annual payments to "Naftogaz" for the transfer of the GTS. We are witnessing a strange situation when the government, acting as the owner of GTS, takes the funds from one state-run company and gives them to another. Moreover, the new company is forced to compensate the government for the lost profit. What is your attitude to this situation, considering that the government took the assets from one state-owned company and transferred them to another state-owned company. At the same time, we understand that these expenses will be covered by consumers who will pay a higher tariff to the "GTS Operator".
– "Speaking of compensation, they did sign an agreement, and I was strongly against it. According to this agreement, the "GTS Operator" was obliged to transfer 48 billion UAH to "Naftogaz" in 2021. "Naftogaz" needed these money to pay for gas imports and received them from the "GTS Operator". As I've already mentioned, this company has always been treated like a cash cow. No one was interested in hearing the argument that we have an established tariff schedule and these funds should be spent on concrete things such as repair and construction works. "GTS Operator" has already transferred the whole amount - 48 billion UAH - by the decision of the government. It wasn't the decision of "GTS Operator" or "Naftogaz". The Ministry of Energy signed an executive order.
As for the tariff rate, we can even reduce it to zero, in which case it's only a matter of time before the system stops working. After all, we have to pay salaries, invest funds in repair and maintenance, buy gas to cover operational and technical expenses. The fact that the government didn't raise the tariff paid by oblast gas companies for OTE (so that they could buy the gas they need) led to accumulation of huge debts amounting to tens of billions of hryvnias. Did they solve this problem? No. They simply shifted the responsibility from one shoulder to the other. It's anyone's guess how these debts will be repaid under current conditions. "Naftogaz" came up with an ingenious solution to take the distribution networks away from those oblast gas companies, over which the "Naftogaz" company has gained control. There are several oblast gas companies with debts amounting to 16 billion UAH that have no sources of future income. This means that "GTS Operator" can simply write off this16 billion debt as lost, but it doesn't solve the problem."
– "Is it possible to reconstruct and develop our GTS under the circumstances where we don't have a proper gas market and pricing policy, different tariff rates are applied to consumers, and we are being told populist stories about the need to keep tariffs down somehow? Does it make any sense to talk about GTS reconstruction, given that we don't have the necessary conditions in the natural gas market?"
– "No, it's impossible. We need to come up with some kind of decision because the gas companies have already accumulated a huge amount of debts. "GTS Operator" will not endure long, if there is no gas transit through Ukraine."
– "What are our import options? Euphoric mood associated with Ukraine's self-sufficiency in natural gas has been used as a slogan by our leadership for several years. Unfortunately, self-sufficiency in gas has become possible only because of the war and economic recession in our country. Evenly balanced production and consumption doesn't necessarily mean that we are self-reliant. Therefore, the need for importing gas won't be going anywhere. Under the conditions of economic recovery and growth, Ukraine will demand even more energy resources, and it is most likely that they will come in the form of gas. Does it make sense to sign a medium-term contract for the import of natural gas with Poland? It's possible that the export of a symbolic amount of gas would help Poland dispose of the gas that comes from several projects. Ukraine produces as much gas as it can and buys the rest on the spot market. In other words, our country doesn't prioritize imported gas or own production on a systemic basis. Furthermore, conclusion of such a contract would bring Ukraine and Poland closer together, and it would be almost the only integration project implemented against the background of Poland's unprecedented support for Ukraine during the war and the lack of adequate response from our country."
– "It is true that we may need to import natural gas at some point because we consume a large amount of gas in the winter time and a small one in the summer. The fact that we produce 55 million m3 of gas per day doesn't guarantee that this amount will be enough to satisfy domestic demand on any given day in the wintertime. For these reasons we have the underground storage facilities. And if it's not enough, we will have to import gas. There shouldn't be any problems with importing gas from any direction because our import capability has increased twofold up to 54 million m3 per day. This amount is equal to our daily gas production. As for the purchase of gas, it is the duty of our trader to develop a strategy. Our main trader is a state-owned company "Naftogaz". There are also some private traders. It is hard for me to tell why "Naftogaz" isn't buying gas. There are some really interesting options: LNG terminals in Turkey or Azerbaijan, which has signed agreements with almost half of our neighbors (in particular, with Romania, Bulgaria and Moldova). But the problem is that we don't have a long-term strategy and long-term planning in place. To a large extent, it is the duty of "Naftogaz" to formulate and implement a long-term strategy for providing Ukraine with natural gas."
Prepared by Svitlana Oliynyk