Overdue household gas bills: how to settle debt and not to lose home
Ukrainians owe almost UAH 25 billion for gas supplied to them and for gas distribution service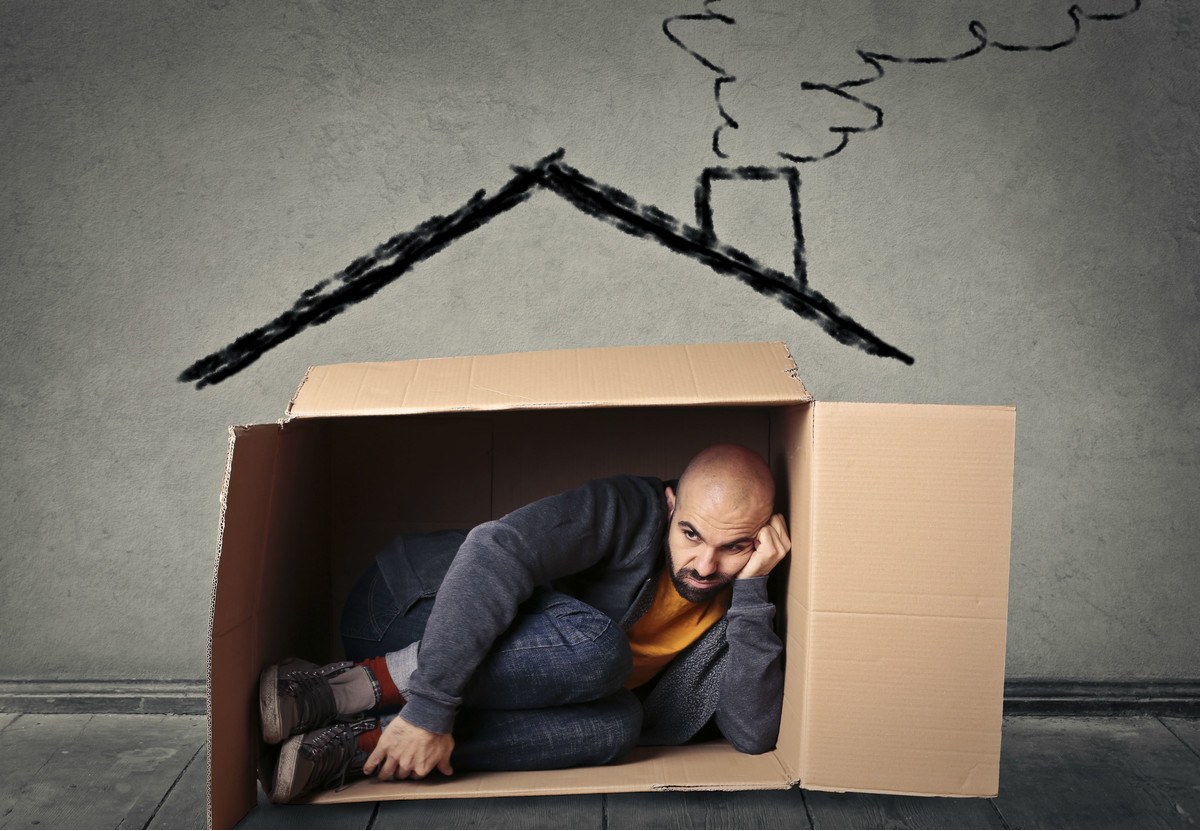 Among all housing maintenance and utility services, Ukrainians owe the most for natural gas and its distribution. According to the latest data by the State Statistics Service, the overdue amount owed for these services as of the end of June reached almost UAH 25 billion, or over UAH 2 billion more than a year earlier (UAH 22.9 billion). Courts are overwhelmed with lawsuits against the debtors, but because of the COVID-related restrictions the enforcers' hands are tied. The question is: for how long?
Ukrainian Energy analyzed the situation with overdue gas supply and gas distribution bills owed by households, and found out what risks the debtors run and what they should do in order not to end up without a home.
Overdue housing maintenance and utility bills of households have increased over the year
According to data by the State Statistics Service (source: Energy Map), overdue bills owed by households as of the end of June 2021 amounted to UAH 24.7 billion for natural gas supply and distribution services, UAH 21.5 billion for heat and hot water supply, UAH 7.1 billion for electricity supply and distribution services, UAH 6.4 billion for centralized water supply and water discharge services, UAH 5.5 billion for apartment building maintenance services and UAH 1.2 billion for domestic waste removal service, totaling UAH 66.4 billion.
According to government resolutions on simplification of the subsidy issuance procedure and on the procedure of settling restructured debt, almost six thousand restructured debt settlement agreements worth UAH 51.7 million were signed with households in June 2021.
"The amount of payments remitted, including under long-term agreements, was UAH 23.8 million," a report by the State Statistics Service says.
In June 2021, households mostly paid over 100% of amounts due for supply and distribution of gas. The biggest sums were paid in Kyiv (196.4%) and in the Ternopil (175.8%) and Cherkasy (172.8%) Oblasts, the smallest in the Kirovohrad (86.9%) and Kherson (93.3%) Oblasts.
Therefore, we can see that households traditionally begin to pay more for gas supply and distribution after the end of the heating season, while during the coldest winter months the overdue amounts are increasing.
"40% of overdue bills were accumulated during the heating season," Vinnytsiagaz Zbut LLC Director Vasyl Sopilnyk says.
Many people don't have enough money to fully settle all housing maintenance and utility bills.
"A large proportion of household consumers are unable to prepay for gas, like it's being done in most countries of the world, because people physically lack money," Oleh Popenko, Chairman of the Union of Utility Service Consumers, says.
That's why the overdue amount owed by Ukrainians for gas and its distribution, which as of the end of December 2020 was UAH 31.5 billion, has increased to UAH 34.4 billion as of the end of January 2021. But afterwards, when the weather became warmer and the amounts of bills became smaller, the overdue debts began to decline as well, down to UAH 34.2 billion as of the end of February 2021 and UAH 30.2 billion as of the end of March 2021.
An analysis of State Statistics Service data, made by DiXi Group experts, has proved that during almost the entire heating season (from October to February inclusively), household consumers have been underpaying the amounts due by them, while after the end of the heating season – in April and May – they settle the underpaid bills. This behavior is seasonal and typical for households.
Households payment level for utility services in December 2019 - June 2021, in general in Ukraine, %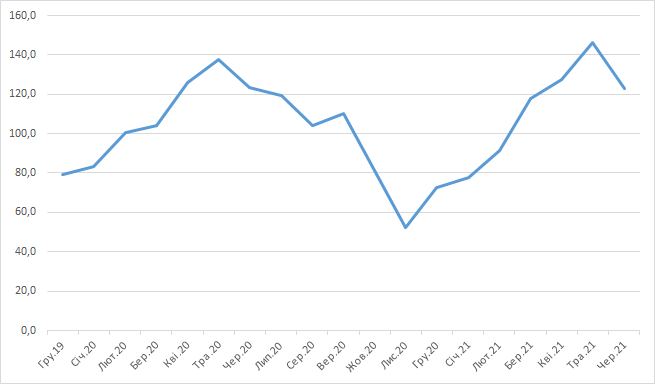 Source: Energy Map
Do gas companies have a lot of debtors, and how much in particular do families owe for gas and its distribution?
"As of 01.08.2021, the amount owed by household consumers to, for example, Vinnytsiagaz Zbut LLC, which operates under the Your Gazzbut brand, was almost UAH 100 million. Therefore, over 106 thousand households, or 23% of the total number of household consumers, have the debtor status," Vasyl Sopilnyk says.
According to him, 81% of debtors owe under 1000 hryvnias for the gas they consumed, 17% owe under 5000 hryvnias, and only 2% (2097 households) are habitual non-payers who owe more than 5000 hryvnias.
"Speaking about the gas distribution service, households in the Vinnytsia Oblast owed UAH 38.5 million for this service as of the end of July of this year," Larysa Lohinova, Head of External Communications Department at Vinnytsiagaz JSC, says.
How to solve the problem of overdue gas supply and distribution bills
To make sure that the debts do not grow like a snowball but, on the contrary, decline and eventually disappear, experts believe that full individual gas metering must be implemented and the gas supply system must be automated.
"Most countries of the world have clear regulations: only when you paid for gas will you be able to consume it," Oleh Popenko says. "They have a system featuring individual metering and automatic supply of gas in every apartment. If a consumer paid directly with a card, gas will be supplied to their apartment; no pay – no gas. And Ukraine doesn't even have full metering, because neither gas companies nor the government have the desire to implement it. Therefore, at the first stage we have to achieve the one hundred percent metering, and at the second stage, fully automate the gas supply system. And only after that will we be able to clean up the debt mess."
Oleh Popenko believes that today, solving the problem of debt is also unrealistic for the reason that most oblgaz companies themselves allow the debts.
"If someone owes, say, 25 thousand but settles some 5-10 thousand in debt on average, gas will again be supplied to them. Fact is, if gas companies begin to fully disconnect gas supply service to households, they will stand to lose more and more customers, who will start switching to electricity or firewood," our interlocutor says.
In addition, the expert is outraged by the government's willingness to write off the debts owed by gas companies at the expense of budget (i.e., taxpayer money), but at the same time, is not going to forgive the debts owed by household consumers. Therefore, people found themselves in unequal conditions with indebted service providers.
"I mean the latest legislative initiative: the draft law 3508-d, which proposes to settle almost UAH 100 billion in debts in the gas market (owed by gazzbut, oblgaz and teplokomunenergo companies)," Oleh Popenko says. "In particular, it concerns the debts owed by private gas supply companies to Naftogaz of Ukraine NJSC. At the same time, household debts remain debts, and nobody is going to settle them. That's unfair. I consider it a nonsense that we settle debts owed by private gas suppliers."
Presently, debtors are often dealt with by disconnecting gas supply to their homes. This measure was often abused, for example, by Lvivgaz, which could leave all residents of even an apartment building without gas because of one or a few debtors. The consumers were told that the reason for disconnection was a gas leak or some emergency.
"We have complaints from residents about the absence of gas supply in the entire building," Lviv Mayor Andrii Sadovyi said during a June meeting of the executive committee. "Lvivgaz says that there was a gas leak. There were so many of these leaks already, that we have to question the safety of the city's gas networks. We have never had that many emergencies before. If that's an attempt to compel people to pay by claiming an emergency, they better should start working with the debtor in that building. They can't hold the entire building hostage."
What should the debtor do?
The best option for debtors (in order not to end up without property and without a place to live) is to start negotiating and make an agreement on restructuring of their debts.
"The legislative framework has several mechanisms of solving the problem of overdue debts," Natalia Hutarevych, Senior Jurist at Sayenko & Kharenko Law Firm, explains. "One of them envisages restructuring (payment in instalments) of debt. For that, the debtor should contact the provider of a housing maintenance or utility service and make the relevant agreement."
However, the legal counsel says, a gas supplier may deny the debt restructuring or demand that the consumer provides documents proving their insolvency.
If the settlement (restructuring) of debt upon agreement of the parties was not used or turned out to be ineffective, the debtor, Natalia Hutarevych says, could be charged with liability in the following forms:
collection of a penalty,

disconnection of utility services,

imposition of restrictions on the use and management of property (freezing the property, for example, a bank account),

making withholdings from income (salary, pension, stipend, etc.),

settling the debt with the debtor's property (up to eviction from home and placement of immovable property in collection).
It is worth noting that the only measure the provider of a housing maintenance or utility service themselves can apply to the debtor is disconnection of service. All other measures can be applied only under a court ruling, which, however, can be secured under a simplified procedure without the debtor's participation. That's what the proceeding ordered upon a demand to collect overdue bills for housing maintenance and utility services is about, our interlocutor adds.
Quarantine-related relief for debtors with overdue housing maintenance and utility bills
Nevertheless, in view of the quarantine the government prohibited certain actions against debtors. Thus, for the duration of quarantine and during one month after it was lifted, it is prohibited by law to:
assess and charge penalties (late fees) for past due payments of housing maintenance and utility bills;

suspend/discontinue housing maintenance and utility services to Ukrainian citizens, if the bills for these services are unpaid or only partially paid;

forcibly evict the debtor from home and forcibly collect the housing privately owned by Ukrainian citizens when enforcing court rulings ordering collection of overdue bills for housing maintenance and utility services;

forcibly evict debtors owing overdue bills for housing maintenance and utility services from residential premises in buildings of state- or community-owned housing stock or social-purpose housing stock.
Since June 2020, the Verkhovna Rada of Ukraine has been deliberating on the draft law 3613 proposing to restrict the right of debtors owing overdue bills for housing maintenance and utility services to travel outside Ukraine, to drive a motor vehicle, to use firearms and to hunt, until the overdue bills are settled in full.
"The reason that this draft law is still pending hearing is the quarantine and measures of support for the public, provided during this period," Senior Jurist Natalia Hutarevych comments on this legislative initiative.
An advice to help debtors
Even though in the conditions of quarantine the enforcers' debt collection options are limited, everybody knows that this situation can't last forever. Therefore, the debtors will have to pay, sooner or later. Is there any possibility for them to make their situation somewhat easier?
According to Senior Jurist Natalia Hutarevych, a statute of limitations is one of the mechanisms of protecting the consumer's rights. If a debt was incurred more than three years ago, the plaintiff cannot demand a payment of that debt.
Another nuance debtors should be aware of is exactly what debts could really entail repossession of housing.
"If the amount to be collected in an enforcement proceeding (the overdue debt for housing maintenance and utility services per se + penalties/late fees + legal costs + enforcement costs), is equal to or lower than 20 times the minimum monthly salary amount (UAH 120 thousand as of present), the debtor's only house and the land plot on which this house is located cannot be placed in collection," the legal counsel explains.
On the other hand, Natalia Hutarevych says, even though legislation does not explicitly states so, debtors should bear in mind that the debts they owe could be handed over to debt collection companies.
"Presently, operation of these companies in the housing maintenance and utilities sector remains unregulated, and therefore, the consequences for a debtor will be rather of psychological nature in this case. However, it is worth mentioning that lawmakers started to work on legalizing their operations. In particular, a law passed in 2021 sets forth the rules for debt collection in the financial sector (debts under loan agreements and the like). Therefore, regulation will, probably, be subsequently expanded onto other types of debt as well, particularly debts for housing maintenance and utility services," the legal counsel says.
What can a debtor do when their case is already handled by a court enforcer?
According to our interlocutor, at the stage of enforcement proceeding (as well as at the stage of court hearing) the parties can make an amicable agreement containing, in particular, debt restructuring provisions.
"This amicable agreement must be approved by court. In addition, the collector can submit a motion waiving enforcement of the court ruling, which also must be approved by court. In these cases, the enforcement proceeding will be closed. It is worth noting that all legal costs and all enforcement costs will be also included to the amount of debt," Natalia Hutarevych says.
In addition, she adds, courts may defer the enforcement of ruling, or order enforcement in installments, for up to one year. This may happen in the event of circumstances that seriously complicate the enforcement of a ruling or render it altogether impossible. In that case, the court will also take into consideration: degree of defendant's guilt of the occurrence of dispute; if defendant is an individual: serious illness of the defendant or their family members, and defendant's financial situation; natural disasters, other extraordinary events and so on.
Therefore, if no court ruling concerning a debtor was entered yet, the debtor can, according to law, voluntarily pay the amount of debt including late fees. The best way of doing it is by restructuring the debt. If a court ruling (court warrant) has already been entered, the debtor can fulfil it voluntarily. In that case, the debtor will pay, along with the amount of debt and late fees, legal expenses of the provider of housing maintenance and utility services. If a debtor is not willing to voluntarily fulfil the court ruling, an enforcer will "help" settle the debt by charging late fees, ensuring that utility services to the debtor are discontinued, evicting the debtor from home and freezing their property. At the same time, the debtor will be charged legal costs, enforcement fee and enforcement costs.
But presently, options of enforcers are limited because of the relief for consumers, introduced for the duration of quarantine. On the other hand, utility service providers and the government will hardly be putting up for a long with the situation of accumulating household debts, because it could cause the market of housing maintenance and utility services to collapse. Therefore, the debtors should better hurry up with restructuring their debts.